Fraser Island is famed for its rugged terrain and diverse, native landscape. So, do you need a 4WD on Fraser Island, and can you get around without one? With amazing beaches accompanied by lush rainforests, the island is awe-inspiring. In our opinion, Four-Wheel driving is the best way to explore the world heritage site and discover the fantastic wildlife and natural beauty within the area.
DO YOU NEED A 4WD ON FRASER ISLAND?
As it's mostly sand, getting around Fraser Island is best done with a 4WD. In fact, the only permitted vehicle to explore the island is by 4WD. It would be unsafe to drive around Fraser Island on a 2WD as they can easily get stuck on the off-road terrain. It is difficult to get around Fraser Island without a car, so a 4WD is the most common form of transport.
Although a large portion of driving will be along the sandy beaches, it is essential to note that road rules still apply. Police patrol Fraser Island and those who do not follow the road rules will be fined. The only place where 2WD vehicles are permitted is the paved roads surrounding one or two resorts.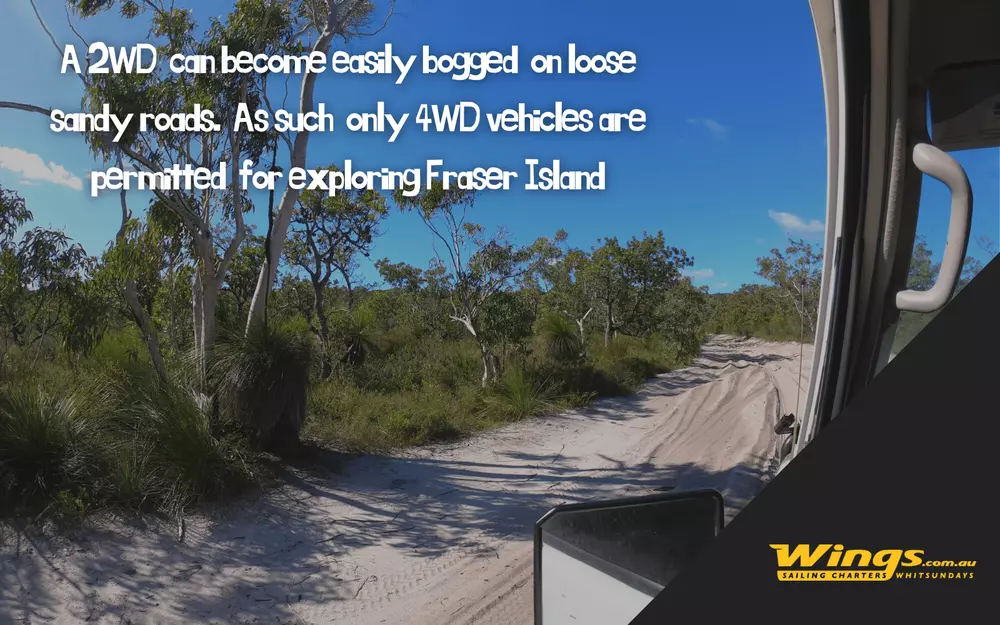 CAN YOU DO FRASER ISLAND WITHOUT A 4WD?
Technically, yes. You can get around and see the island without a vehicle. However, your holiday will be made much easier and simplified with access to a 4WD.
If you don't have your driver's license, you can jump in on a guided 4WD tour to make the most of your stay. A Fraser Island 4WD Day Trip with a guided 4WD tour is an excellent way to experience the off-road fun without worrying about sourcing a vehicle and permits on the island.
Expert tour guides organise your 4WD and take you to the best spots Fraser Island offers, including a cruise down 75 Mile Beach, Kauri Forest, a lunchtime swim, and the famous Lake Mckenzie. After exploring all the off-road terrain, enjoy a walk in the palms and vines of the world heritage rainforests before returning home on the Fraser Island Ferry.
FRASER ISLAND DRIVING – STAYING SAFE ON THE BEACH
To safely navigate around Fraser Island, you will not only need a 4WD vehicle but a vehicle access permit. These permits must be obtained before driving on the island. If you are renting a vehicle or driving in a guided tour group, the operator will organise these. The permit must be clearly displayed on the windscreen of your vehicle.
It is crucial you safely drive around the island, the maximum speed on the island is 80 kilometres per hour, and the beach stretch is governed with the same rules as a regular highway.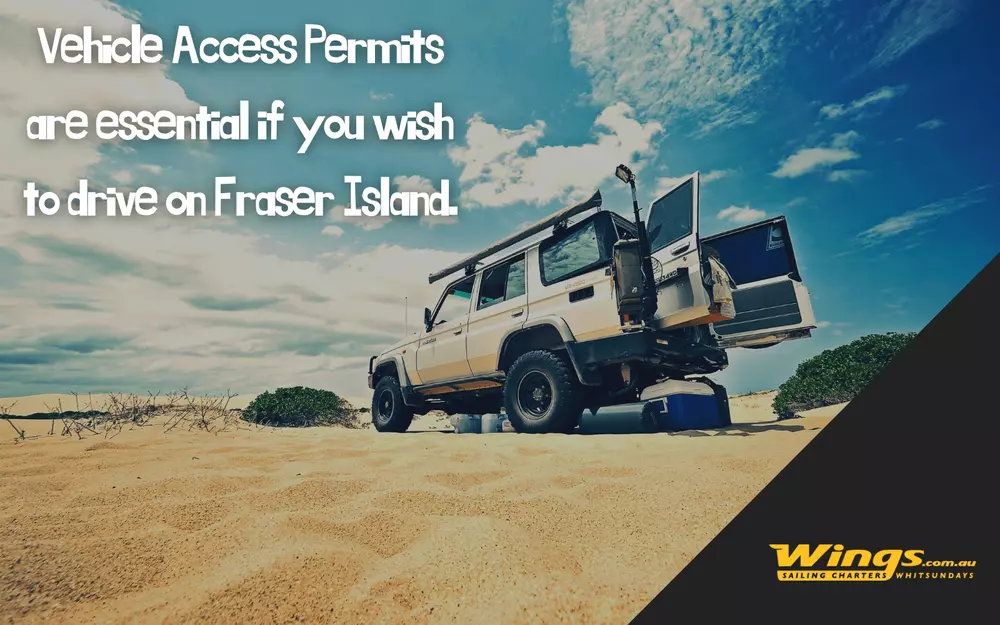 FRASER ISLAND 4WD TIPS
Fraser Island Driving can be a lot of fun, but it is essential to know what you are doing. Before setting out, it is advised that you practice driving along the various sand tracks and receive driver training or instruction if possible. If you rent a vehicle, the operators will provide you with tips and support to stay safe. When driving in a ride-along or guided tour, a safety briefing will ensure everyone receives a basic induction to off-road driving.
When driving off-road, it is always advised to check that your vehicle is in good condition before heading off. You should have suitable parts on hand, including spare wheels, tow cables, a jack and spare parts. Although the island is easy to navigate around, it is still advised to have these items in case you get stuck.
DO YOU NEED A 4WD ON FRASER ISLAND IF YOU WANT TO GO CAMPING?
The best part about four-wheel driving on Fraser Island is there are so many places to explore. There are 45 camping sites across the island so that you can find your private slice of paradise. If you are camping with small children, there are sites with dingo deterrent fences.
The islands west coast is exceptionally boggy and impossible to drive on; as such, most of the driving and campsites are along the island's east coast. On the northeastern tip of the island is Waddy Point. This is a popular spot as it is sheltered from the wind and one of the few spots where you can make a fire. The popularity of these campsites also means booking is essential during peak periods. They are very cheap at less than $10 a night. If camping is right up your alley, check out this 3 day guided trip around Fraser Island and surrounding areas.
BOOK WITH WINGS TODAY
So, do you need a 4WD on Fraser Island? Most definitely. If you would like more information about Fraser Island or planning your next visit, browse our full range of tours or get in touch with the local experts at Wings Whitsundays Adventures.