Have you been searching for the best Airlie Beach activities and attractions for your next vacation away? Whether you're travelling with family, friends or your partner, Airlie Beach is the perfect destination for a holiday that'll suit everybody.
Airlie Beach is a laidback Australian coastal town located in the heart of the north-east coast of Queensland, close in proximity to the famous Whitsundays Islands and Great Barrier Reef. Airlie Beach is one of Australia's most celebrated holiday destinations renowned for its picturesque landscapes, natural beauty, and thrilling activities.
Adventure awaits here at Airlie Beach, home to a variety of experiences that'll take you to an unrivalled state of relaxation or exhilarate your soul, whichever you prefer. Take in the blindingly beautiful turquoise waters and sandy white beaches scattered around Airlie Beach, or discover twisting trails through bushland as you explore one of Australia's most serene environments.
Wherever or whoever you are, we're sure you'll have an amazing time in the stunning Airlie Beach area and surrounding islands set on the world-famous Great Barrier Reef. With an endless array of activities, Airlie Beach has something for everyone. Not sure where to start? No need to worry, Wings has got you covered. This article will outline the best activities to do in Airlie Beach for every kind of holiday. Continue reading to learn about 10 of the best Airlie Beach activities you should experience this summer!
THE 10 BEST AIRLIE BEACH ACTIVITIES ATTRACTIONS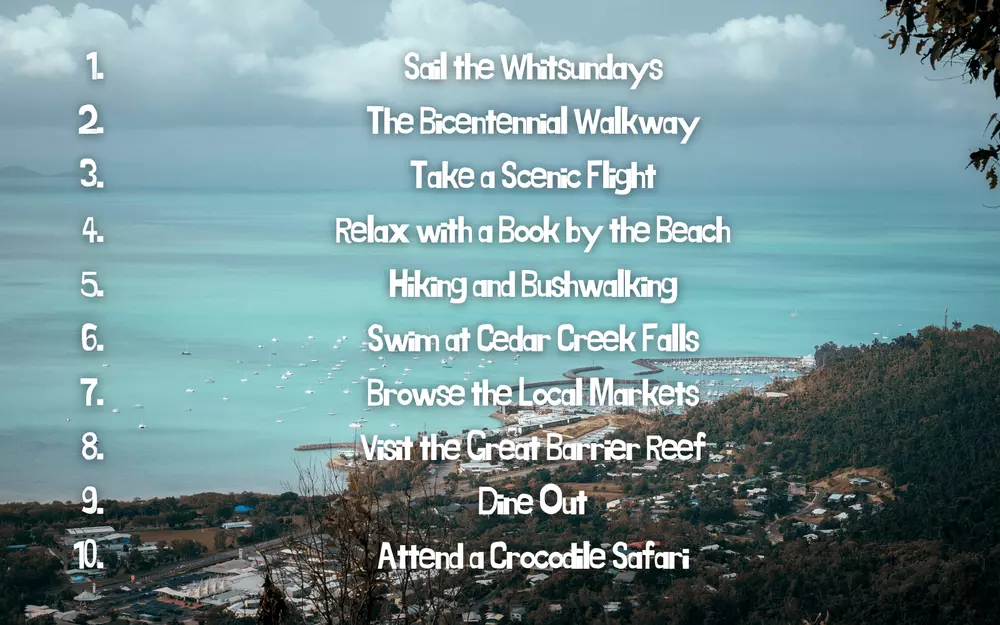 Within our list, we'll also include Airlie Beach free activities and the best Airlie Beach activities for families, so that no matter who you are or whatever your situation may be, you'll be ready to have the time of your life.
Without further ado, here are the best Airlie Beach activities to experience on your trip!
ACTIVITIES TO DO IN AIRLIE BEACH
1. SAIL THE WHITSUNDAYS
Float through the crystal-clear waters of the Whitsundays or laze around in the dazzlingly white sand as you experience some of the most picturesque sceneries in the entire world. Jump off-board and visit some of the resorts around Airlie Beach or spend the night stargazing aboard your boat – the choice is all yours on a private sailing tour.
Wings have a number of deluxe Whitsundays tours that have been carefully designed to give tourists the best of the best when it comes to experiencing the island. Our experienced on-board skipper will handle the boat and provide any information you need as you sit back and soak in the beauty around you. Our tours often begin at Daydream Island, where you'll relax by the reef before your journey continues to the stunning Hamilton Island, where you can swim among marine life or indulge in 5-star cuisine.
Have a special occasion with a group of friends? Taking the family on a well-earnt vacation? Sleep aboard and wake up in paradise on a private charter with Wings – we'll take care of everything so you can focus on indulging.
2. BICENTENNIAL WALKWAY
The Bicentennial Walk is an activity that the entire family can enjoy, one of Australia's best-kept secrets. Just a short 4-kilometre walk, the Bicentennial Walkway takes around 45 minutes to complete when travelled at a leisurely pace and can be enjoyed by all due to the lack of steep terrain.
What's more is, the Bicentennial Walkway has stunning coastal views that span as far as the horizon. Extending from Airlie Beach lagoon through to the sands of Cannonvale Beach, this walk will lead you to discover cute restaurants, live music acts, tucked away private beaches and sunset views you'll never forget.
3. TAKE A SCENIC FLIGHT
Nothing will prepare you for the experience of seeing the famed Whitsundays region from a bird's eye view.
Fly alongside the birds with Wings. We offer a 60 minute Whitsundays scenic flight departing from Whitsundays airport that provides extraordinary views from the window, pilot commentary and memories that'll last a lifetime.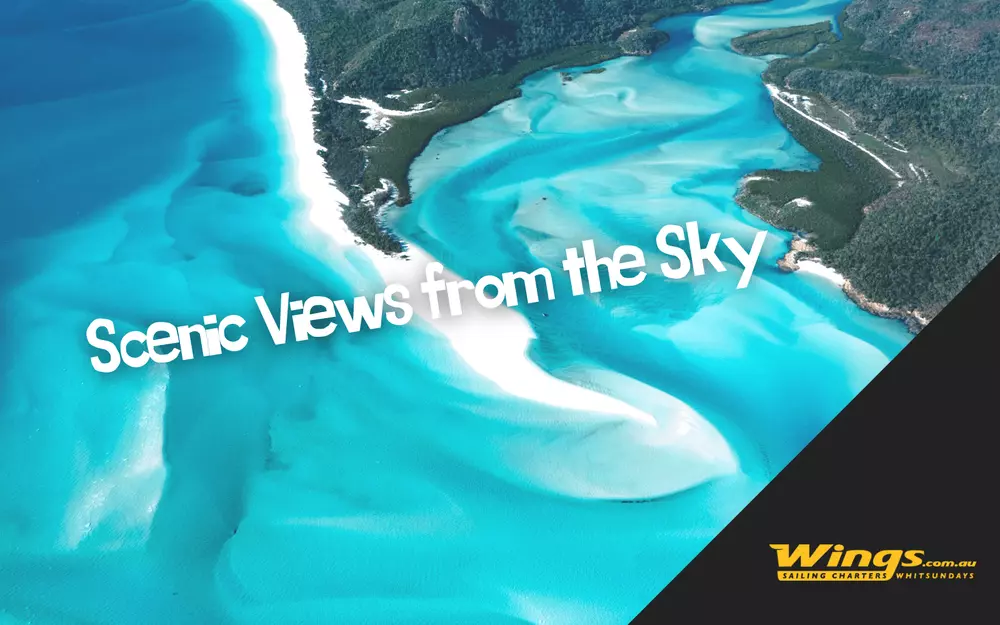 AIRLIE BEACH FREE ACTIVITIES
4. RELAX WITH A BOOK BY THE BEACH
You'll have no better chance to curl up and read a good book by the beach than you do when you visit Airlie Beach. Engross yourself in a story as the calming surroundings let your imagination run wild. Take some time out for yourself and enjoy life's simple pleasures.
5. HIKING AND BUSHWALKING
For those that have trouble relaxing all holiday long, Airlie Beach is home to a vast array of twisting and turning bushwalking trails that are sure to get the heart pumping, fulfilling your need for adventure. Enjoy watching the roar of the waterfalls when it rains as you become one with nature!
6. SWIM AT CEDAR CREEK FALLS
Set in a natural rock amphitheatre, you'll indulge in an abundance of luscious flora and fauna as the perfectly clear Whitsunday's water rushes down natural formations in an amazing display of raw force. Head here during the day and you might even get the whole place to yourself and a few locals!
AIRLIE BEACH ACTIVITIES FOR FAMILIES
7. BROWSE THE LOCAL MARKETS
In the early morning of every Saturday, Airlie Beach explodes into a hub of activity. The Airlie Beach markets come alive with a concoction of locals and tourists both browsing and manning the stalls, which include things like artisan locally crafted clothing, jewellery, knick-knacks and souvenirs alike.
Enjoy the tastes and aromas of local market food and coffee as you wander through the markets without a worry in the world, or sit down and enjoy the live entertainment that puts a smile on everyone's face. Prepare your lunch by purchasing some local produce, or gather inspiration for a romantic evening meal with the tasty samples on offer.
Bring the kids along for some arts and crafts, dip down to the beach for a swim or spark up a chat with a friendly local. With something for everyone, enjoy the lively and relaxed atmosphere right by the beautiful foreshore of Airlie Beach by visiting the local markets.
8. VISIT THE GREAT BARRIER REEF
What's a trip to the Whitsundays without a visit to the Great Barrier Reef? A once in a lifetime experience, the Great Barrier Reef is the largest coral reef on earth and is home to an expanse of underwater life and natural beauty that's sure to entertain all family members, regardless of age.
As one of the seven wonders of the world, right here in our backyard, a trip to the Great Barrier Reef is an absolute must if you're visiting Airlie Beach.
Wings offer an incredible tour of the Great Barrier Reef with local guides, where you'll get to experience the most beautiful parts of the Reef in the water or from the safety of a vessel. Browse our collection of Great Barrier Reef Tours today for an experience you'll never forget!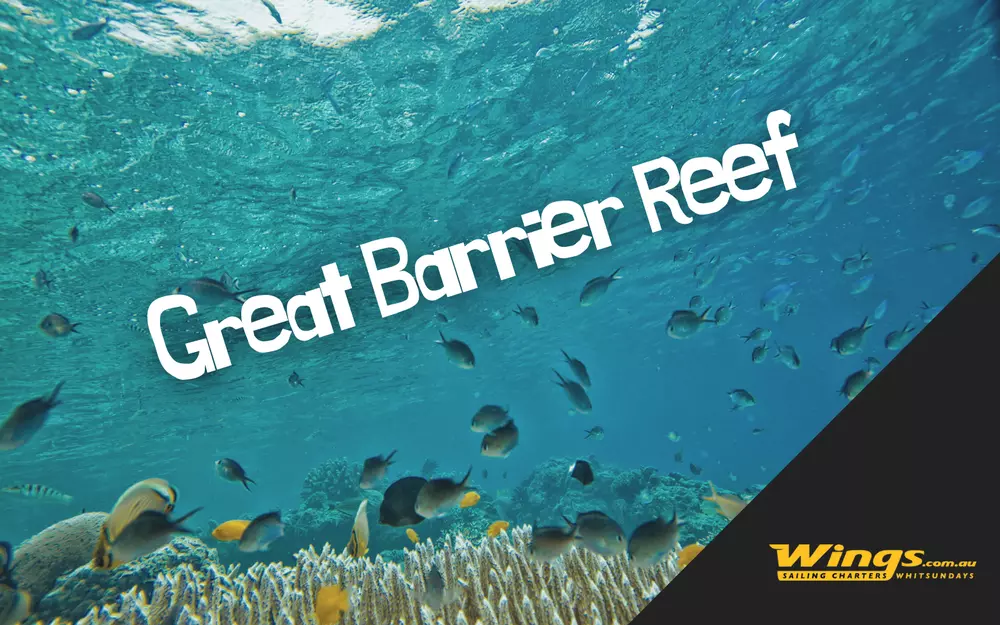 9. DINE OUT
Airlie Beach is home to many delicious dining options and cuisines, beautifully set-up along the coastline. With numerous restaurants of all price points to choose from, experience the best of what Airlie Beach foodies have to offer! Go on, treat yourself, you won't regret it.
10. ATTEND A CROCODILE SAFARI
Experience the raw power of nature on a crocodile safari in Airlie Beach. The perfect occasion for a rainy day, you'll learn plenty about the lifestyle of dangerous creatures and see parts of the wilderness your daily life doesn't allow for.
An exciting, engaging activity for attendees of all ages.
START YOUR AIRLIE BEACH ADVENTURE WITH WINGS
So, what are you waiting for? Enjoy the Airlie attractions on your next vacation with one of Wings private charters or guided tours, where you'll have access to some of the Whitsundays best-kept secrets. You can even create your own adventure!
Wings Whitsundays have crafted many an unforgettable experience due to our extensive knowledge of the area and personal touch. Proudly Australian owned and operated, we love sharing our passion for the region with visitors.
For your next Airlie Beach vacation, choose Wings for an adventure to remember!