Whitsundays largest overnight holiday charter boat!


The Ultimate Family Adventure
Wings III is a custom built sailing and overnight adventure catamaran, designed by Angelo Lavranos specifically to operate in the Whitsunday area. Wings III was designed to "Sleep aboard and wake up in paradise".
The design started with her sister ship Wings II, another of Angelo's designs and to this another 3m and about 5 tonnes overall was added by the time she launched. Wings III was designed to be able to operate comfortably for crew and guests on extended journeys in a wide range of weather conditions and conducting a range of water activities while at anchor; while still maintaining decent sailing performance on the longer legs of her journeys around the Whitsunday Islands and Outer Great Barrier Reef reef systems.
As the boat had a design criteria to work amongst offshore reef systems her keels are slightly shallower than her little sister and her hulls are slightly more beamy giving her a larger interior volume. While she's no racing cat, she can maintain a 10 knot boat speed under sail when returning from the outer great barrier reef in a fresh breeze on an ocean that has a few bumps.
The operational limits for Wings III is the entire Queensland coast as per the Class C operational limits in the Great Barrier Reef. Our area of operation is the Whitsunday Island Group and associated Great Barrier Reef systems within approximately 50 nautical miles of these islands on extended private charters.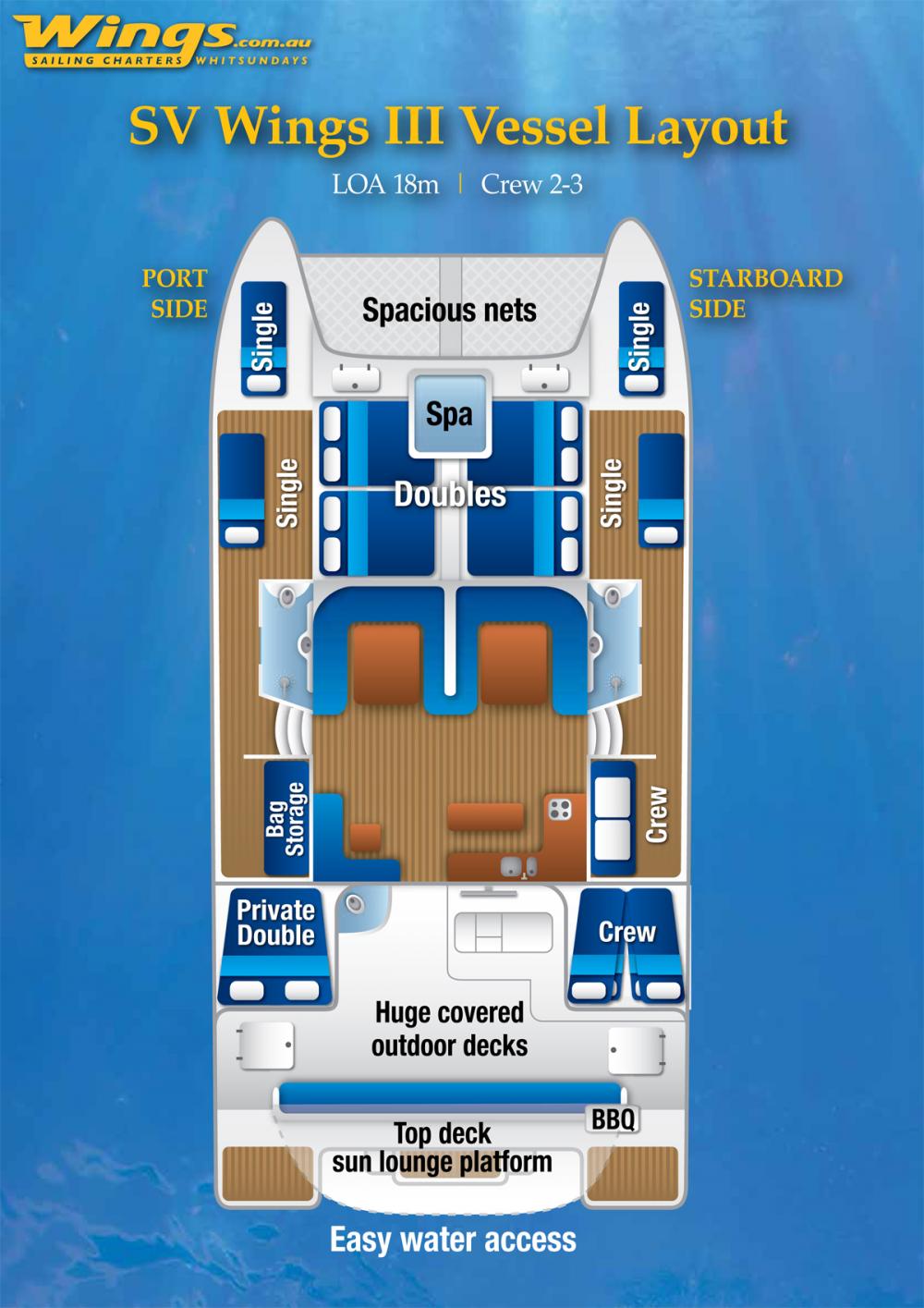 Wings III has a 365 day Whitsundays Islands operational marine park permit and 365 day National Park access to Whitehaven Beach and Tongue bay / Hill inlet on Whitsunday Island. Many areas in the Whitsundays have limits to entry based on the total number of people onboard a boat. All Wings marine park permits are also for the entire Great Barrier Reef Marine Park.
Wings III also has a charter fishing licence for "General use" and "Habitat Protection areas". Whilst Wings vessels do not run charter fishing tours as such, sometimes it's great to put a line in of an evening or for some people it can be the opportunity to catch their first fish. All Wings boats carry basic fishing gear and squid jigs just for a little fun when we have the time and the zoning of the area allows. Wings III is a great mothership for charters if you wanted to bring along your own smaller fishing craft. Talk to us about the opportunity to add these as activities on any extended private charter.
As you step aboard Wings III you come straight into the covered aft deck seating area, gear up for the adventure area and the back deck Weber BBQ area and. There is also a disco light for night time dancing with your pals! There is an additional outside toilet and shower onboard.
Moving into the fully air conditioned vessel interior, the saloon of Wings III has 3 separate dining areas and a large galley with 4 domestic fridges. In the saloon we have 2 flat screen TV's, one being the larger display to the onboard computer. A DVD player with DVD's to choose from or an Ipad connecter to connect to your Apple device. There is a selection of board games the whole family will enjoy and activities and colouring for smaller children. Galley stove top and oven is gas. Filtered and cooled drinking water available.