What do catamarans have that make them the best boat option for a sailing holiday in the Whitsundays? If you are thinking of hiring a catamaran to visit this incredible region of Australia, you are far from being alone.
The thing is that after bluewater cruising on a catamaran, is improbable that you will want to switch back to monohulls. And although some of the reasons are very evident like space and style, not everything is within easy reach, especially if you are not an expert.
We created a list of reasons to hire a catamaran in the Whitsundays to help you make a decision for your sailing family holidays. As you probably already know, the Whitsundays are like sailing heaven, not only because of their unbeatable views, beaches and uninhabited islands, also due to the excellent weather, the crystal waters and all the amazing natural creations of the Great Barrier Reef that can be discovered by just jumping from the boat.
SPACIOUS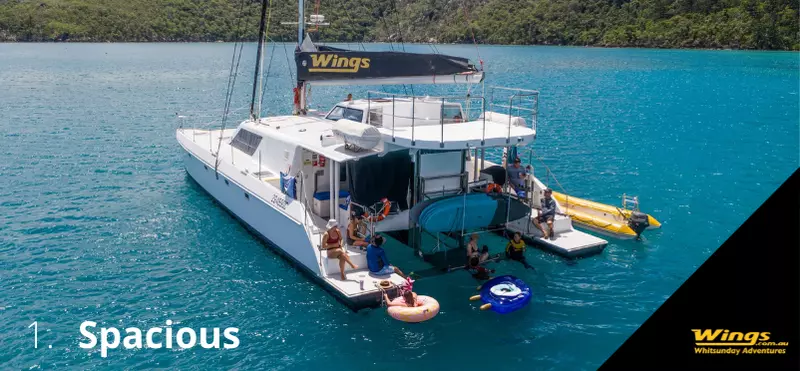 It is not news that catamarans are opulently spacious with incomparable views. The two separate hulls of a catamaran can often provide up to double the amount of social space than a monohull of the same length.
This specific characteristic of catamarans makes them, of course, bigger and spacious. Some catamarans, like Wings III, can take up to 21 people in an overnight sailing experience around the Whitsundays Islands. This means that big groups can sleep comfortably on single or double beds.
The special measures of catamarans come together with generous outside areas with top decks, covered outdoor decks, sun lounge platforms and spas. Wings III is 18 metres while Wings II is 15.7 metres.
Because of the layout, there is usually more privacy in catamarans than in monohulls, and the space between the main saloon and the cabins is a big plus with families with children that want their kids to be able to sleep at a reasonable hour.
STYLISH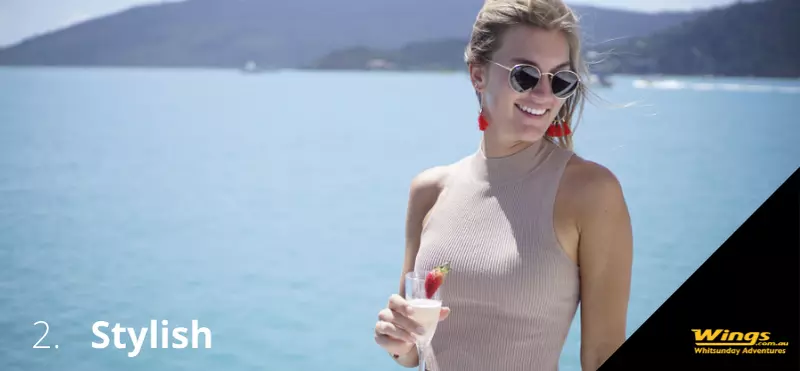 Is not everything about space, style is another very important factor about hiring a catamaran in the Whitsundays. The amazing pictures that can be taken on a sailing catamaran have no comparison with anything else.
White sailing catamarans are trending and for good reasons. They are perfect for an affordable family holiday without compromising style and comfort.
Wings Private Sailing Charters catamarans are custom-built, sailing and adventure catamarans designed by Angelo Lavranos specifically to operate in the Whitsundays area. Although we don't define them as luxury catamarans, their outstanding features include a high and cushioned deck, a front deck spa, a covered outdoor deck with barbecue and more.
SMOOTH AND STABLE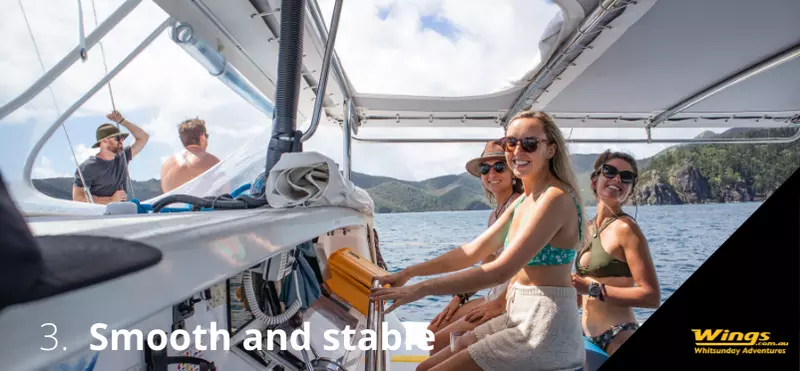 One of the major advantages of hiring a catamaran in the Whitsundays Islands is its inherent stability and it simply can't be compared with other types of boats at this point.
Everyone wants to smoothly cruise around the Whitsundays Islands with a clear sky, shining sun and perfect weather, and although most of the time this is the case, no one can escape an unpredictable raining forecast. The stability that cats can provide is an important point for families with kids or seniors as these vessels are less susceptible to the effects of wave action, making them much easier to walk around on the deck and within the inside areas.
After getting your sea legs, there will be moments that you will not even feel that you are cruising, which makes catamarans perfect for those prone to seasickness.
Anyway, we always recommend fresh air and avoid walking inside the vessels if you tend to get dizzy on boats.
WATER SPORT ACCESS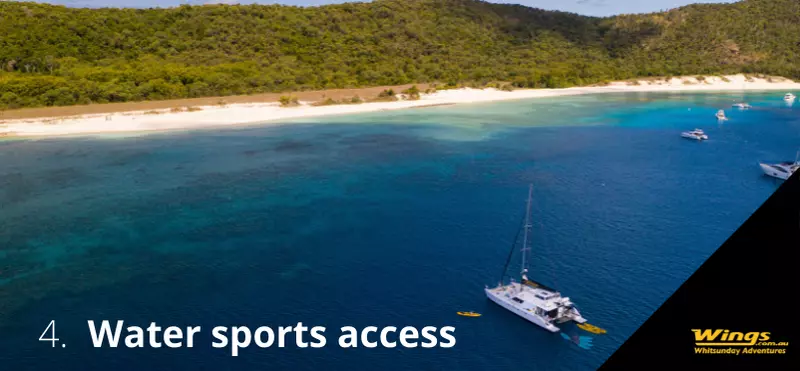 A sailing experience in the Whitsundays Islands will not be the same without the privilege to snorkel at any time and jumping to the ocean in one easy step. The back deck of cats is usually almost at the same level of the water, this means that as long as it is safe enough, you can take a dip the same way you would get into a swimming pool.
Wings II and Wings III carry clear bottom kayaks, SUP boards and snorkel gear to explore the wonders of the Great Barrier Reef. But that is not all, Wings III counts with a rack specially made to take ski paddles or other water sports equipment on our Adventure Sports Private Charter.
SAILING ADVENTURE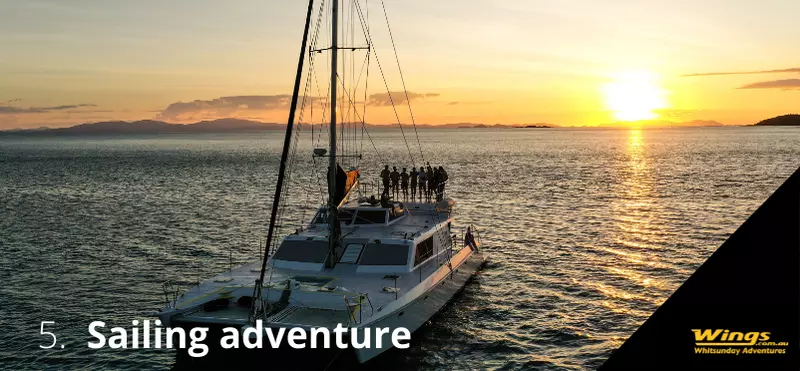 Although it is inherent to the type of boat you choose, this is our favourite reason why you should hire a catamaran to discover the Whitsundays Islands.
Whether you are a sailing enthusiast or not, you will definitely enjoy yourself while navigating through the Whitsundays passages enjoying the breeze of the ocean.
Reconnect with nature and switch off from work and busy schedules sleeping under the stars and waking up in paradise. Marine life really comes alive during night-time in the Whitsundays and thanks to the underwater blue lights of the vessels you will have great chances of spotting dolphins and friendly sharks.
During whale season, prepare to meet these beautiful giants during their migration to the north of Queensland.
SAFE FOR KIDS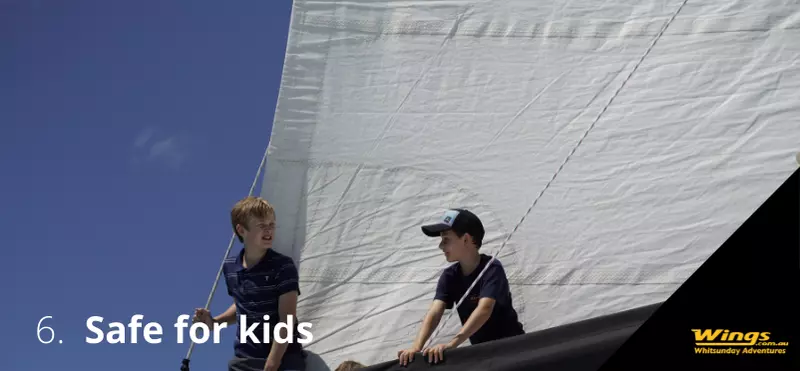 Taking a family holiday sailing with kids can be a magical experience and create lasting memories that they will recall for a lifetime. As you may have already realized by now, catamarans are suitable for families with young children willing to spend an adventurous and also relaxed vacation.
As everything on a cat is almost on the same level, it is not hard to keep an eye on your kids while they move around the boat, where they will have enough deck space to play freely.