When we visit a place for the first time, it is very common to feel a little bit overwhelmed by the number of tours, companies, activities and things to do in the same place.
If you are planning a boating holiday in the Whitsundays and you want to have a more clear idea of which boat to hire in Airlie Beach (a good guess, because you are reading this post, right?), we strongly recommend continuing reading.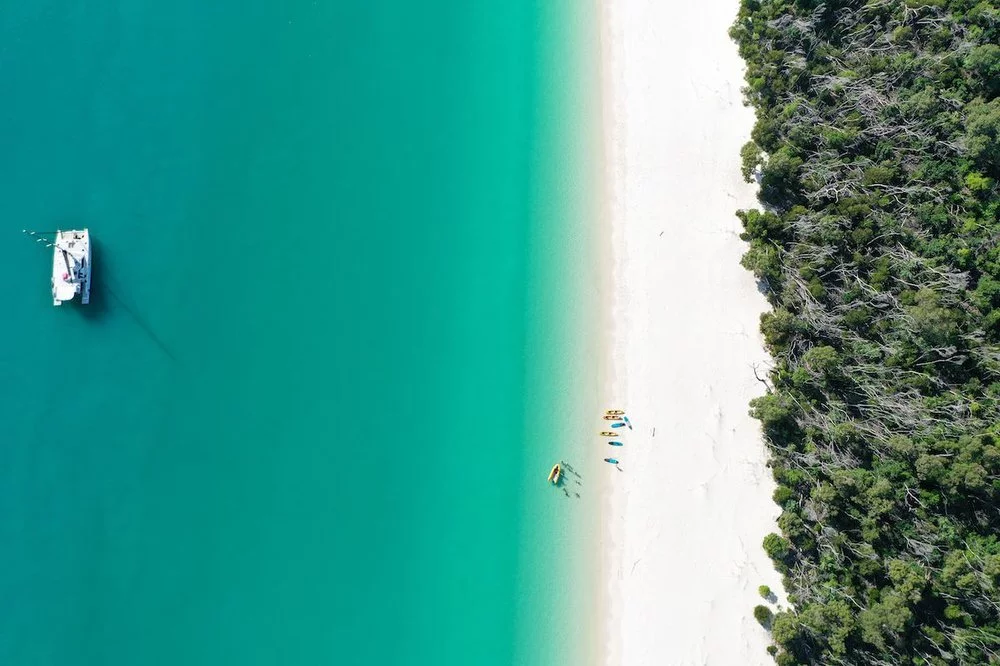 So let's start with the basics. As you probably already know, Airlie Beach is a picturesque town and perfect access to the Whitsundays Islands, the main attraction of this area and the heart of the Great Barrier Reef.
There are different ways of exploring the Whitsundays Islands and the Great Barrier Reef. Whether you choose an overnight private charter, a day tour or any other option will depend on the following factors:
The type of boat you want to hire.
The time you want to spend in the Whitsundays.
If you prefer a shared or private experience.
The number of people you are spending your holidays with.
Budget.
TYPES OF BOATS TO HIRE IN AIRLIE BEACH AND THE WHITSUNDAYS
Being the sailing mecca of Australia, Airlie Beach is like heaven for any boat lover. Plenty of vessels rest every day at the Coral Sea marina and Port of Airlie, from catamarans to monohulls and powerboats.
The first thing to do when you plan a boating holiday in the Whitsundays is deciding on which kind of boat you want to cruise.
SAILING CATAMARANS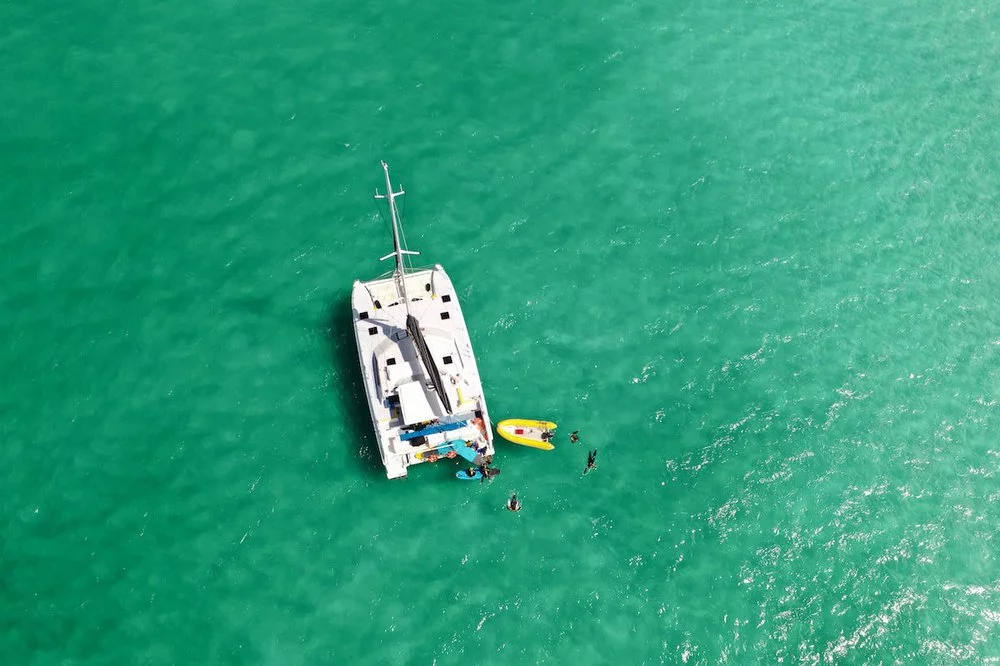 Catamarans are spacious, stylish, stable and perfect for families travelling with kids. They are multi-hull vessels with plenty of space for everyone to relax on the outside and inside areas.
Apart from the generous space of catamarans, the main advantage of this kind of vessel is their stability, which makes them perfect for those who tend to suffer from seasickness. Kids and seniors usually feel very comfortable walking around, as catamarans are less susceptible to the effects of wave action.
Discover more about sailing catamarans and why they are the perfect choice for a well-deserved family vacation.
SAILING MONO-HULLS
Experts claim that mono-hulls are more exhilarating to sail than cats. Also, due to the differences in terms of space and style with catamarans, the truth is that in many cases, mono-hulls may be less expensive to hire than multi-hulls.
Most of the sailing catamarans and mono-hulls that can be hired in Airlie Beach come together with powerful engines. Although they are suitable for day trips and sailing sunsets charters, most of them were specially made for overnight experiences.
POWERBOATS
Unlike larger sailing vessels, powerboats are designed for day trips. As they tend to go really fast, they are great for enjoying the most popular activities and places, like snorkelling and visiting Whitehaven Beach, in a relatively short time.
HOW MUCH TIME DO YOU WANT TO SPEND IN THE WHITSUNDAYS ISLANDS?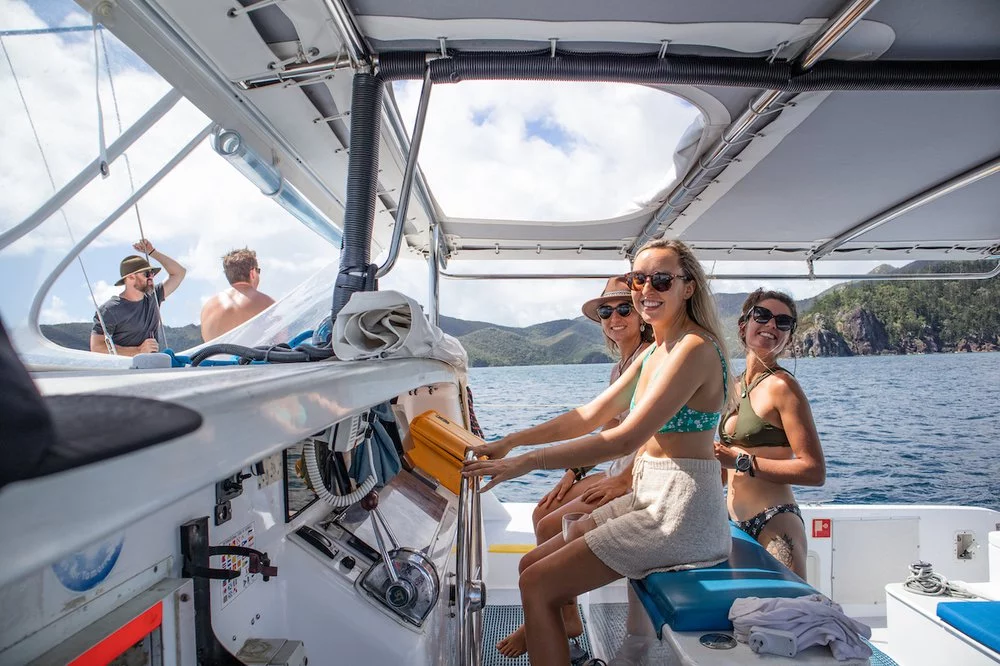 Well, first of all, it will depend on how much time you have. A full-day tour or half-day tour on a fast powerboat is perfect for those who love adrenaline and wish to visit in one day the main attractions of the area like Whitehaven Beach and Hill Inlet lookout and make a snorkelling stop to explore the coral reef on the way.
If you have a couple of days to enjoy and your holiday goal is to relax, feel the breeze of the ocean, sleep under the stars and wake up in paradise, an overnight sailing charter is what you are looking for.
The benefits of an extended sailing holiday in the Whitsundays are unbeatable. You will be able to arrive at the most beautiful beaches of the Whitsundays and amazing snorkelling spots before the crowds.
Everyone heard at least once about Whitehaven Beach and the Hill Inlet Lookout in Whitsunday Island. And although it is completely true that it is a paradise destination, there are also many other attractions and beautiful places to discover in the area.
If you spend one, two or even three days sailing around the Whitsundays, you will find that other places are equally stunning like Langford Spit, Mantaray Bay, Butterfly Bay and Cid Island, just to name a few.
Of course, the more time you go, the better! Wings Sailing Charters Whitsundays offer all-inclusive and private extended trips to the Outer Great Barrier Reef, where even four days will seem not enough!
PRIVATE OR SHARED?
You can choose to share a fun day with other like-minded people while you have an amazing time on the boat, on the beach and under the water!
If you are travelling with your partner or buddy and can't afford a private charter, this is probably the best alternative. It will be rewarding! At the end of the day, you might have some new friends!
On the other hand, if you are on holiday with a big or small group, family or friends, and prefer to have a private experience and rent a boat just for yourselves, there are amazing options for you too.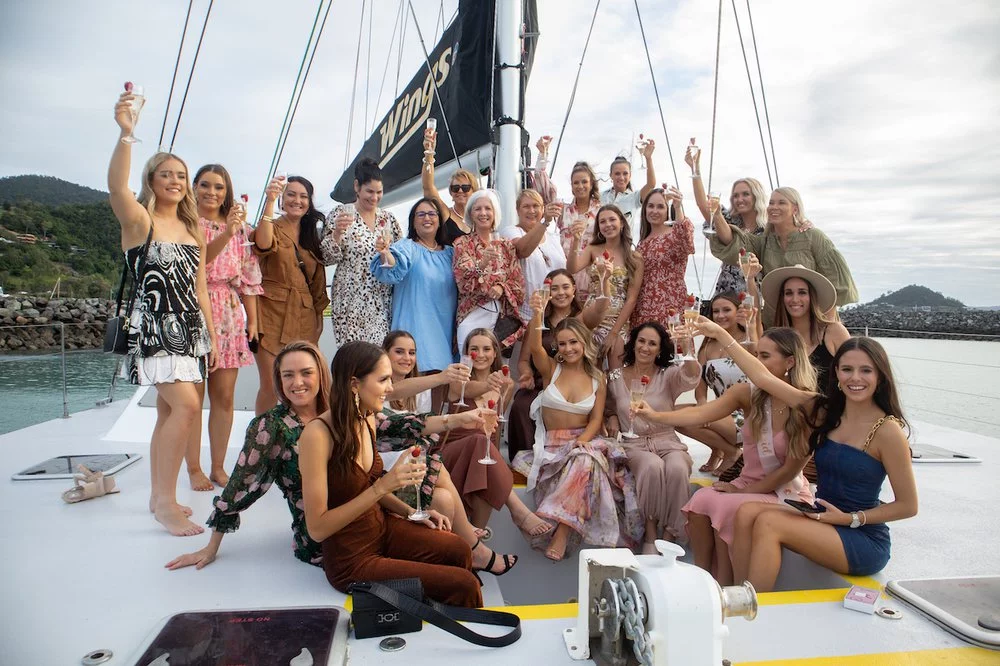 Private skippered charters will allow you and your group to have a catered experience where you basically need to relax and enjoy while the crew and skipper take care of all the rest. Bareboats are also an alternative for the brave ones that prefer driving the boat without any crew on board. Is really up to you!
Find out the pros and cons of skippered charters and bareboat charters and which one is better value for money.
OTHER FUN WAYS OF DISCOVERING THE WHITSUNDAYS ISLANDS
The Whitsundays Islands and the Great Barrier Reef are stunning from any point of view. And what can be more awesome than flying above it in a helicopter with your buddy?
Scenic flights are unforgettable experiences where most of the time you can't decide between taking pictures of the amazing view or leaving your phone and enjoying the moment. You can either book a helicopter tour individually or as a package with other tours!
Are you an adrenaline lover? Don't miss your chance to experience the thrill of literally flying over the Whitsundays. Skydiving is very popular in Airlie Beach, where the sensational views are from another world.
Last but not least, a short but epic trip can be made by renting a Jet Ski! As well as the scenic flights, Jet Ski hires are offered also as a package with, for example, Segway hires to explore the beautiful town of Airlie Beach.
Are you still having doubts about which is the best way of visiting the Whitsundays Islands? Contact Wings and we will be more than happy to help you book your holidays in the Whitsundays!