Looking for available Whitsunday houseboats to rent? You're likely confused, as there is no such thing! As locals to the area, we're here to explain why you won't find houseboats in the Whitsundays, as well as provide a guide for everything you need to know about boating in the Whitsundays.
The Whitsundays is a truly remarkable part of the world. The group of 74 islands is nestled off Australia's northeast coast in and amongst the world-famous Great Barrier Reef. The Whitsundays is one of the most popular tourist destinations for visitors exploring both the land and sea. The best way to get around this beautiful region is on a boat. So, why, when you search 'houseboats for rent Whitsundays', are there no options?
ARE THERE WHITSUNDAY HOUSEBOATS FOR RENT?
While the Whitsundays are home to an endless supply of seafaring opportunities and coastlines to explore, you will not find any Whitsunday houseboats out on the water. This is largely because houseboats are designed for rivers and inland waterways. These boats are very easy to captain and provide calm and spacious quarters to stay on. However, houseboats are big and square boats that do not fare well in the open ocean and are often very slow.
Instead of Whitsunday houseboat rentals, yachts, cruisers, and catamarans are the vessels of choice when exploring the Whitsundays. These smaller, lighter boats are perfect for open water cruising and well-suited for exploring the Whitsundays and Great Barrier Reef.
WHAT ARE MY OPTIONS INSTEAD OF WHITSUNDAY HOUSEBOAT RENTALS?
While you may be disappointed to find out there are no Whitsunday houseboats to choose from, there are still endless options for you to get out and explore the Whitsundays on the water, including:
SAILING YACHTS
There is nothing quite like cruising across the Whitsundays on a sailing yacht. The monohull design of these boats cuts through the water and is perfect for cruising between islands on the open water. More experienced sailors prefer sailing yachts as they can be slightly harder to sail than catamarans. However, they provide a fantastic experience regardless of your skill level. Sailing yachts come in a variety of lengths and accommodation capacities.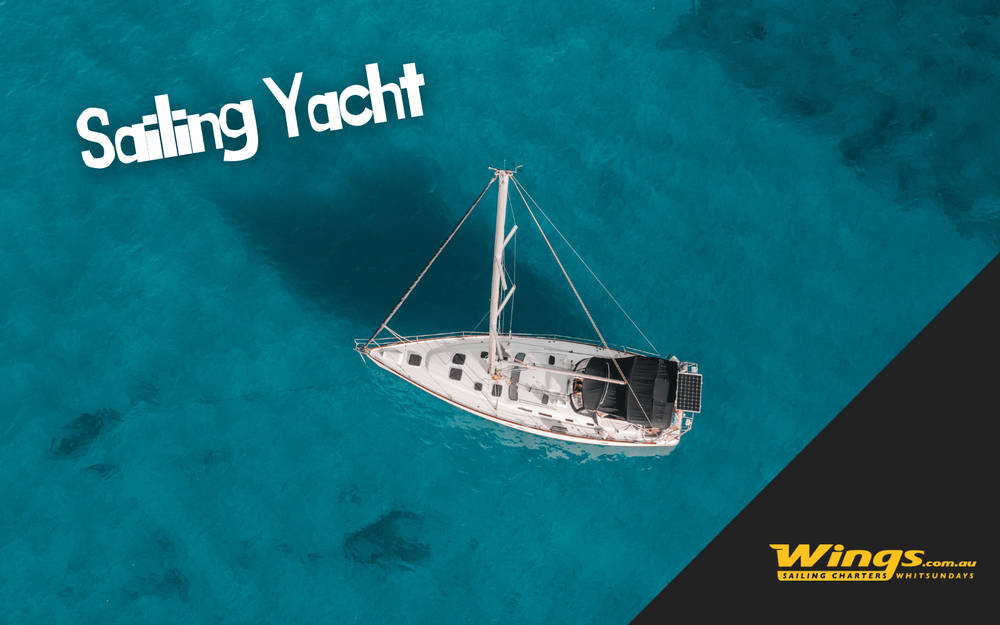 CATAMARANS
The dual hull design of catamarans makes for a smooth and pleasant boating experience. Wider than the monohull sailing yachts, these boats have ample space above and below deck. You will often find the crew sunbaking up the front on the trampoline over the water. They are typically designed with rooms and amenities in both hulls, allowing for separated spaces.
Catamarans can typically hold more occupants than their monohull counterparts if you are looking for a sailing adventure with a larger group.
POWER CRUISERS
For those that prefer motoring around, power cruisers are available in many different shapes and sizes to suit any group. These options are great for those who want to get out on the ocean without sailing. The elevated flybridges on power cruisers act as a great viewing platform to take in the Whitsundays.
POWER CATAMARANS
The closest equivalent to Whitsunday Houseboats would have to be a powered catamaran. These boats provide a smooth and stable cruising adventure without the need for any sailing experience. Just like houseboats, power catamarans come with full amenities and are perfect for larger groups.
PRIVATE CHARTERS
Many visitors seek a houseboat hire Whitsunday Islands experience because of the freedom it affords. However, Private charters can provide an even better vacation in the tropics.
Private charters are perfect for families or groups that want the privacy of their own vessel and a charter catered to them. Sailing with Wings, you can choose from a variety of locations and vessels to tailor the experience to exactly how you want to spend your days in the Whitsundays. Take control and captain the boat as much as you want, or let the skipper take the reigns as you sit back and relax. You can choose from half-day to weeklong options.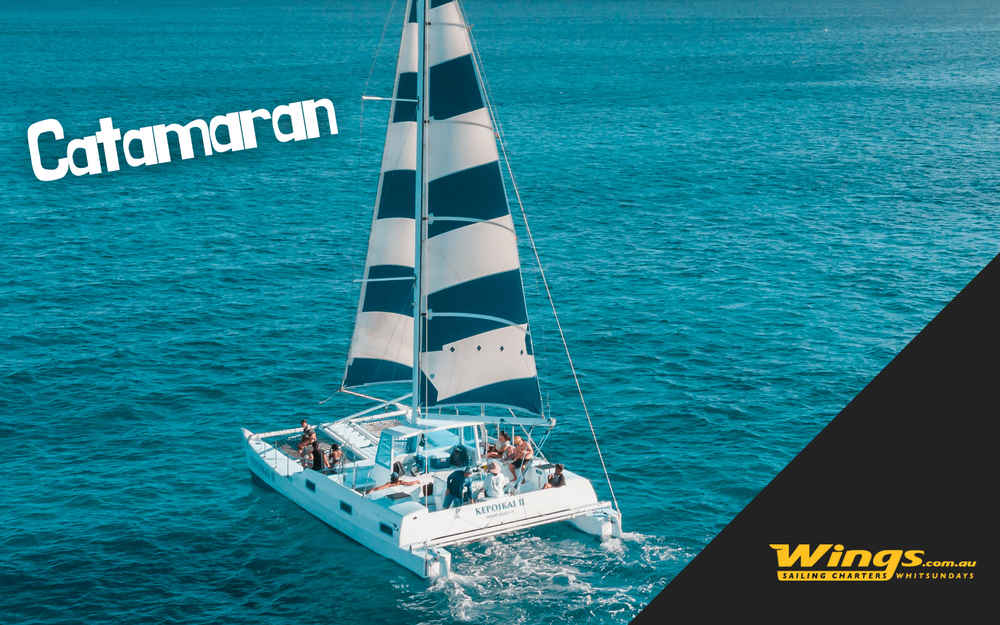 The experienced and professional crew onboard your charter will look after your every need, providing a charter itinerary, cooking, and taking you to the best spots in the Whitsundays. Private charters are also an extremely safe to travel as the experienced crew on board have a thorough knowledge of the waterways and weather patterns in the region.
OVERNIGHT CREWED VESSELS
Overnight and multi-day trips on crewed vessels are perfect for those travelling solo or in a smaller group. These trips are facilitated by an expert crew and will introduce you to a fun and exciting group of people. Book a spot in the cabin and let the crew take care of the rest as they arrange the charter, meals, and equipment. A three day three night group charter will have you cruising around the endless stretch of islands and setting foot on pristine beaches while enjoying all the comforts of a full serviced boat. These are also less expensive than private charters while still providing the same fantastic experience. If you were looking for group houseboats for rent Whitsundays, this is sure to be one of the best options!
SHARED DAY TRIPS
While houseboat hire Whitsundays might seem like the perfect way to take it easy and potter around, sometimes a shared day trip is ideal for those who want to see as much of the region as they can.
Jump aboard an ocean raft and speed around the Whitsundays with special access to protected areas in the Great Barrier Marine Park. On this fast-paced tour, you can cruise, swim, snorkel and bushwalk all in the same day. A group day trip is perfect for those with a spare day, picking up and dropping off from the mainland.
If you're a keen snorkeller, you can also book day trips to explore the various snorkelling spots with an expert crew in a fun and friendly group environment. Wings tours take care of all the snorkelling equipment and tailor the dive spots each day to ensure the best experience for those onboard.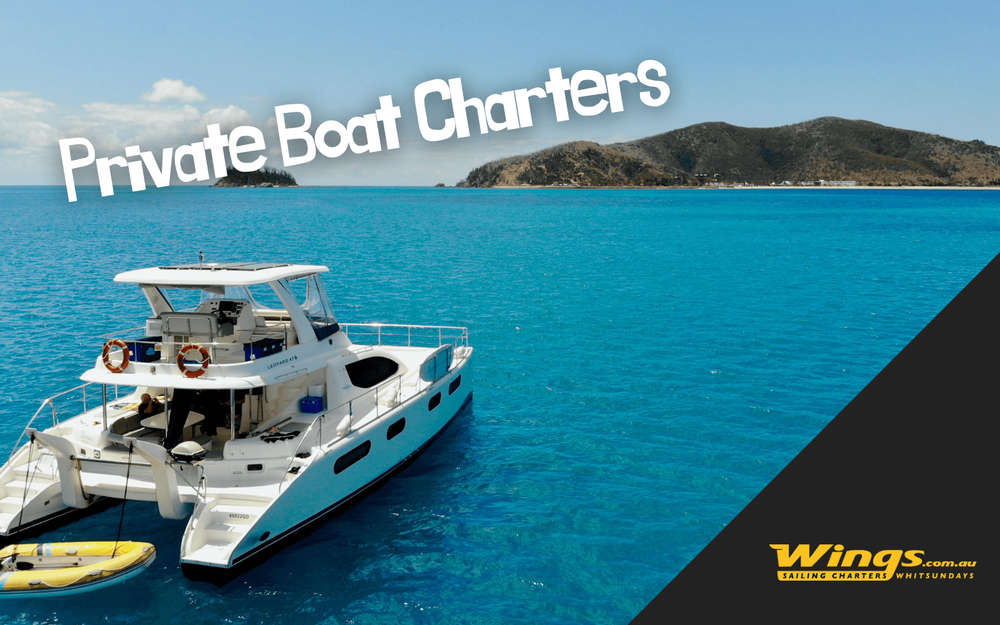 UNIQUE EXPERIENCES
Whitsunday houseboats would definitely be a unique experience, but there are also many other excellent options that will amaze, including:
SPEEDING AROUND ON A THUNDERCAT
While houseboat hire Whitsundays is impossible as these vessels are square and slow, a day out on a Thundercat boat is the exact opposite. A Thundercat Day Tour provides an exhilarating way to see the famous Whitehaven Beach and a stop at two snorkelling spots in a vessel built for stability and speed. These tours also come with snorkelling equipment and meals all-inclusive; all you need to do is hop on and enjoy.
JUMP ABOARD THE S.V ATLANTIC CLIPPER
What better way to see the Great Barrier Reef and Whitsundays than on a purpose-built mega yacht? This S.V Atlantic Clipper comes complete with all the snorkelling and water play equipment you can think of, spacious and comfortable facilities and catering available. This vessel dwarfs all of the others on the Whitsundays and provides an experience unlike any other.
FLY IN A PLANE OVER THE WHITSUNDAYS
With no houseboat hire Whitsunday islands options, you might be looking for an experience away from the water. With the Whitsundays covering such a vast area, a scenic flight tour is perfect to see the beautiful region from above. Your flying experience will provide unmatched views of the islands and waterways of the Whitsundays.
BOOK YOUR WHITSUNDAYS HOLIDAY WITH WINGS
While we do not provide houseboats for rent Whitsundays, we are a proud tour operator facilitating unforgettable experiences in Airlie Beach and the Whitsundays. Whether you are looking for a group, private or day tour experience, our team is passionate about helping you find the best tours and experiences in the Whitsundays.
For your next Whitsunday holiday, choose Wings for an adventure to remember.