When you visit the Whitsundays region, you're spoiled for choice. With 74 islands on the Whitsundays, it can be hard to settle on just one, given the sheer quality and beauty of all Whitsunday Island escapes. So why settle for just one? Island hopping the Whitsundays allows you to craft your own diverse adventure and take in the absolute best of what tropical Queensland has to offer.
Spend your holiday retreat island hopping from one amazing sight to the next, with your drink of choice in hand and swimmers permanently fixed to your body. Soak up the sunshine, sail the crystal-clear waters and relax surrounded by the natural beauty of the Whitsundays.
With a luxurious amount of activities to choose from, the Whitsunday Islands have everything you'd ever want in a holiday. From luxury resorts and world-class beaches to private campgrounds and hiking trails, an island hopping Whitsundays experience suits any and all personalities.
Not sure where to start? Having trouble navigating the luxury of choosing the Whitsundays provides? No need to worry – Wings has got you covered. A multi-award-winning charter vessel operator specialising in the Whitsundays region, we're experienced locals who know the best places to visit and how to craft an unforgettable Whitsundays experience. Continue reading to learn everything there is to know about how to island-hop in the Whitsundays.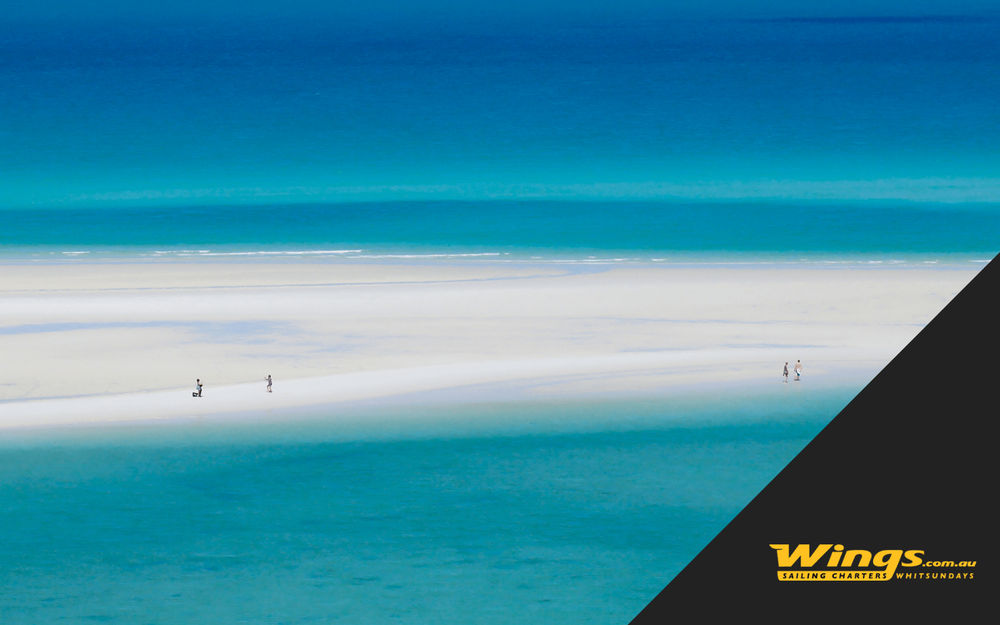 Island Hopping Whitsundays
The sheer quantity of islands in the Whitsundays makes choosing where to go difficult, but it's the quality of the island escapes that makes it downright impossible to settle on just one.
Located just 55 kilometres off the Queensland coast and next to the Great Barrier Reef, visitors travel to the Whitsundays from all around the world to enjoy the pure white sands and sapphire blue waters, indulging in activities such as sailing, snorkelling, diving, and swimming.
To get the most out of your island hopping Whitsundays experience, you'll need to hop from island to island, exploring the best of what the area has to offer. Here are our picks of the best Whitsunday Islands that you shouldn't dare miss out on.
Islands on the Whitsundays You Have to Visit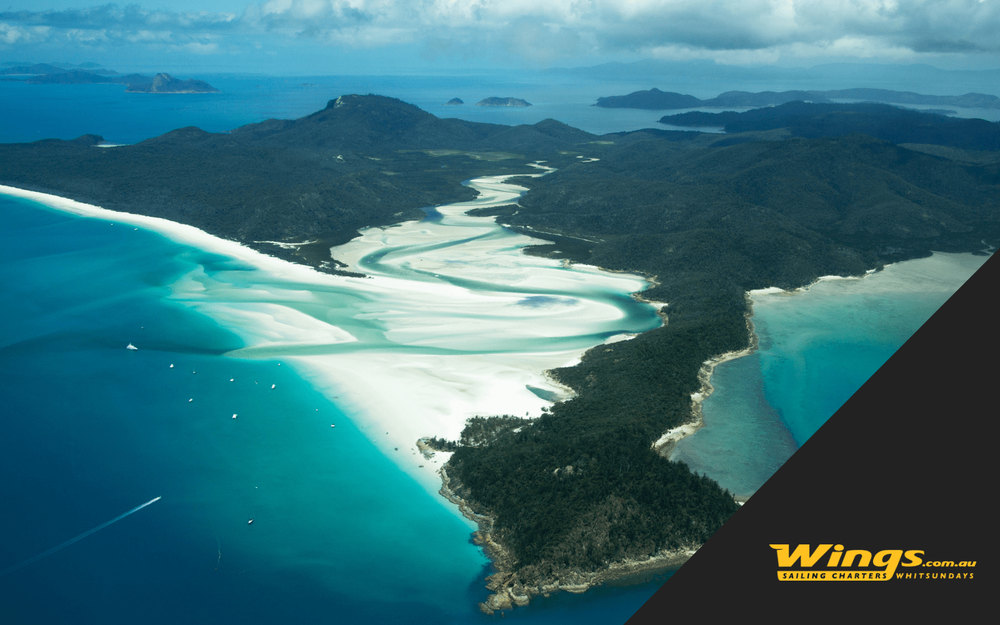 1. HAMILTON ISLAND
Looking for a destination that'll suit the wants and needs of all involved in your travelling party? Hamilton Island has everything from exciting water sports and go-kart tracks to romantic sunsets and fine dining. A great place to unwind, slow down and relax with an island vibe, whilst also allowing adrenaline junkies to get their fix.
What's more is, Hamilton Island is in prime location, with plenty of access. Boasting its very own commercial airport, you can easily fly in and fly out or access the Great Barrier Reef from the island. Made up of four resorts, thirteen restaurants and four pools, Hamilton Island can be a place you visit for a single day, or a place you stay for weeks. Everything and more you'll ever need, all in one place.
Spoil yourself with aerial helicopter views and explore the reef, or sail around the crystal-clear waters, on the lookout for turtles and whales. Jump on a jet ski tour through hidden covers, or head to Hamilton Island's hilltop bar, 'One Tree Hill', for unbeatable views.
2. WHITSUNDAY ISLAND
Home to the world's best beach, Whitehaven Beach, Whitsunday Island is an absolute must visit. Whitehaven Beach spans a spectacular 7 kilometres, complete with sparkling white sands and turquoise sea.
Further up the beach, you should head to the Hill Inlet Lookout for breath-taking views of the white silica and ever-moving tides which showcases some of the best natural beauty our planet has to offer. Explore the island through picturesque walking trails, or camp on the southern end of the beach for the night and experience a raw sense of nature.
3. HAYMAN ISLAND
Looking for an island visit that encapsulates the definition of luxury? Hayman Island is the Whitsundays Island for you. Home to the 5-star InterContinental Hayman Island Resort, the recent million-dollar renovations have brought a sense of elegance to the island. With five-star restaurants to match, Hayman Island is the place to be for those who prefer fine dining, luxurious resort stays.
Check in to the resort spa, spend some time in the sauna or book a couples massage, taking you to a place of relaxation previously unexperienced.
Enjoy a fantastic atmosphere surrounded by majestic rainforests, mysterious coves, and palm-fringed beaches at Hayman Island, one of the world's best islands.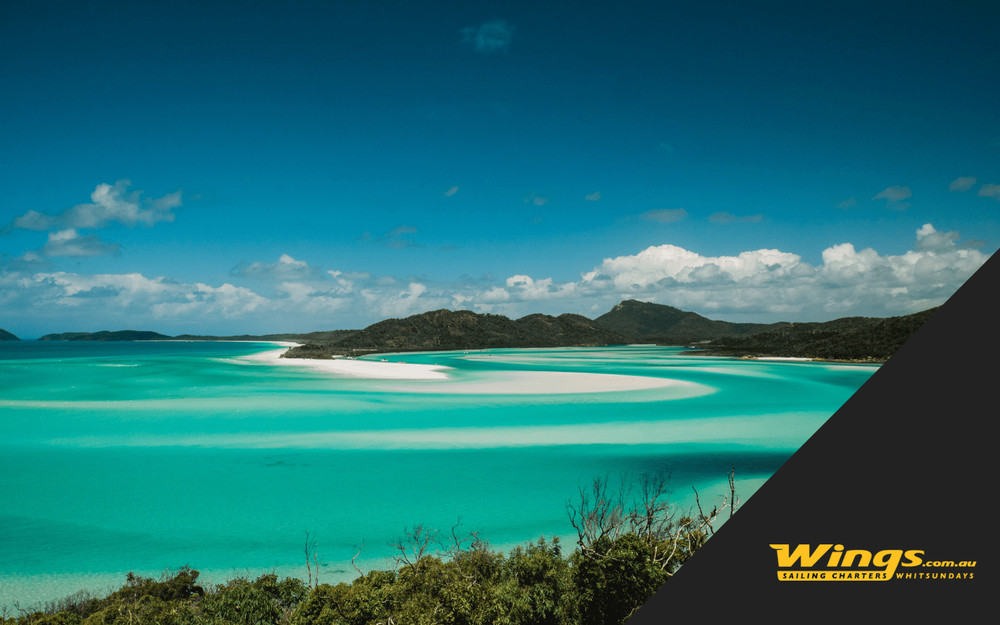 4. DAYDREAM ISLAND
One of the most popular islands among families, and the smallest island in the Whitsundays, Daydream Island is a must-visit destination. The island resort itself takes up almost the entirety of the space but offers many activities to keep everyone engaged and happy, including an aquarium, mini-golf, open-air cinema, and snorkelling activities.
What's more, most of the activities on the island are free or extremely affordable. Plenty of fine-dining destinations are also available, meaning there's something for everyone.
5. HOOK ISLAND
If you're an adventure seeker, Hook Island is the place to be. Encompassed by natural serenity, this breathtakingly beautiful island boasts fantastic lookouts, picturesque bushwalking trails, and some of the most diverse water diving sites in the region.
Perfect for a day visit, due to the lack of resorts, Hook Island offers a sense of privacy and escape. If you're looking to soak up this experience for longer than a day, Butterfly Bay is a quality campsite where you can leave your things as a home base.
HOW TO ISLAND HOP IN THE WHITSUNDAYS
So, when it comes to island hopping Whitsundays, you'll need to plan in advance so that you can focus entirely on relaxing, indulging and enjoying when you arrive. Here's how you can best organise your island hopping Whitsundays adventure.
STEP 1. CHOOSE HOW YOU'RE GOING TO GET AROUND
With no houseboat hire Whitsunday islands options, you might be looking for an experience away from the water. With the Whitsundays covering such a vast area, a scenic flight tour is perfect to see the beautiful region from above. Your flying experience will provide unmatched views of the islands and waterways of the Whitsundays.
It makes sense to use a boat to get around an island paradise. At Wings, we offer exclusive private charters complete with entertainment and your very own skipper so that you can cruise around the Whitsundays without a worry in the world, except what your next drink will be. Our cruise Whitsundays island hopper can fit up to 25 guests onboard and is complete with food, beds, snorkelling equipment, and a surround sound system, among other things. We'll adapt the charter to suit your needs and chosen destinations – the perfect way to cruise around the Whitsundays!
Looking for a guided day tour around the Whitsundays? Look no further, Wings has a vast array of experiences to choose from, appeasing all types of holidayers. View our range of Whitsunday Day Tours From Airlie Beach!
STEP 2. SELECT YOUR DESTINATIONS
Pick the places you want to visit on your trip! Wings' experienced staff can provide suggestions, or refer to our list of places you must visit above!
STEP 3. PLAN YOUR SUPPLIES AND NECESSITIES
Depending on your chosen method of transportation or way of holidaying, you'll have different priorities when it comes to knowing what to bring.
If you're looking to camp, stock up on some meals and bring camping equipment. Going for the luxury resort route? Forget the food, just bring your clothes and your smile.
Hopping aboard a Wings private charter? All you'll need to bring is your own alcohol and drinks, we'll cover everything else.
BOOK YOUR ISLAND HOPPING WHITSUNDAYS HOLIDAY
For a Whitsundays holiday experience you'll never forget, choose Wings to be your mode of transportation and tour guide.
Our personal touch and extensive experience of the area will make sure your holiday is one full of relaxation, partying and indulgence.
Our personal touch and extensive experience of the area will make sure your holiday is one full of relaxation, partying and indulgence.
Contact us on +61 418 757 088 today to learn more, or book your next Whitsundays experience!