It is hard not to love snorkelling. Especially in the Whitsundays Islands, where a wonderful underwater world is waiting to be discovered.
There is no doubt, the best coral reefs in the world can be found in the Great Barrier Reef. Did you know that coral is actually an animal of the same family as jellyfishes? There is so much to learn, right? As crazy as it sounds, the Whitsundays, an archipelago of 74 islands, is located in the very heart of the Great Barrier Reef. They are home to 1,500 species of fish, sea turtles, manta rays, giant clams and many more amazing creatures.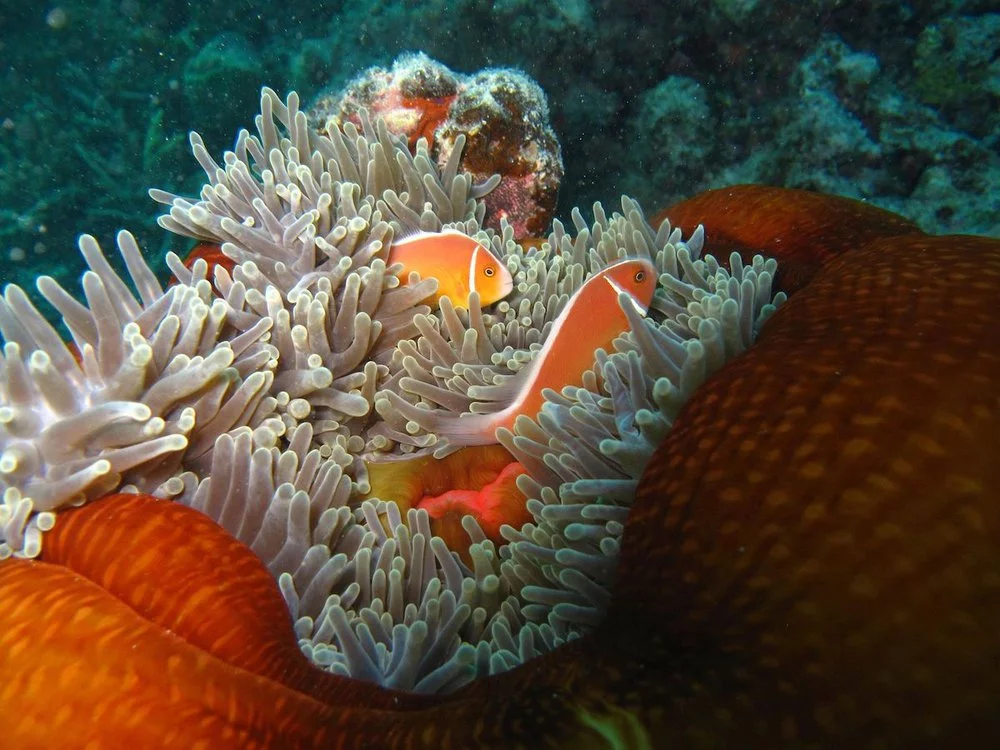 Well, things get even more fantastic when you know that you can appreciate the colours, shapes and mysteries of this world by just jumping off the boat or swimming next to the beach. It's time to put masks on! (and not necessarily the COVID ones).
Snorkelling gear and a stinger suit are all you need to swim in one of the most varied ecosystems on the planet. The Whitsundays' tropical islands are surrounded by blue crystal waters where you can swim all year round.
The Whitsundays Islands are suitable for first-time snorkelers and pros! Even the little ones will love it as the fringe coral gardens are the perfect place for kids to explore and swim.
The good thing is that no matter how you choose to visit the Whitsunday, snorkelling is a must-do experience and will always be included in day tours or extended private charters. Outer Great Barrier Reef trips are probably the best way to experience close encounters with the most vivid corals and amazing wildlife. Wings offer private charters in the Whitsundays and extended holidays to the Outer Reef.
BEST SNORKELLING SPOTS IN THE WHITSUNDAYS ISLANDS
LANGFORD ISLAND
Don't be fooled by its small size, Langford Island is an absolute must and snorkel jewel of the Whitsundays. This beautiful little island is located in the northwestern part of the Whitsundays National Park and it is well known for its long spit that only comes visible during low tide.
A tiny beach appears in the middle of the ocean, making Langford Island the perfect spot for a snorkel adventure.
BUTTERFLY BAY
Protected from the southern winds, Butterfly Bay offers a secluded spot to snorkel and discover abundant marine life, birds and butterflies! The bay is located on the northern side of Hook Island and has received this name as the bay is shaped somewhat like a butterfly.
LUNCHEON BAY
Luncheon Bay is the place to be if you want to explore pristine coral reefs and get the chance to 'find Nemo'! Situated on the northern edge of Hook Island, this bay is known for its underwater canyon, although it is only reachable for divers.
The variety of marine life is what makes Luncheon Bay so amazing for snorkelling, as you might be able to find turtles, manta rays and even reef sharks.
MANTARAY BAY
This fishy wonderland is one of our favourite bays and also located at Hook Island, the second-largest island of the 74 islands that make up the Whitsundays.
As well as almost every snorkelling spot in the Whitsundays, Mantaray Bay was heavily damaged by Cyclone Debi back in 2017 but is on its way to recovery. The bay is home to an incredible array of fish life including George, the giant Maori Wrasse.
THE AMAZING MARINE LIFE OF THE WHITSUNDAYS
CLOWNFISH
Clownfish (or anemonefish) are on everyone's bucket list when it comes to discovering the underwater world of the Whitsundays.
Did you know there are over 30 different species of clownfish in the Whitsundays? These little orange and white guys are part of a large family of fish called Damselfish and share a very particular lifestyle in the Great Barrier Reef. Find out more about the clownfish in the Whitsundays from our experts' research.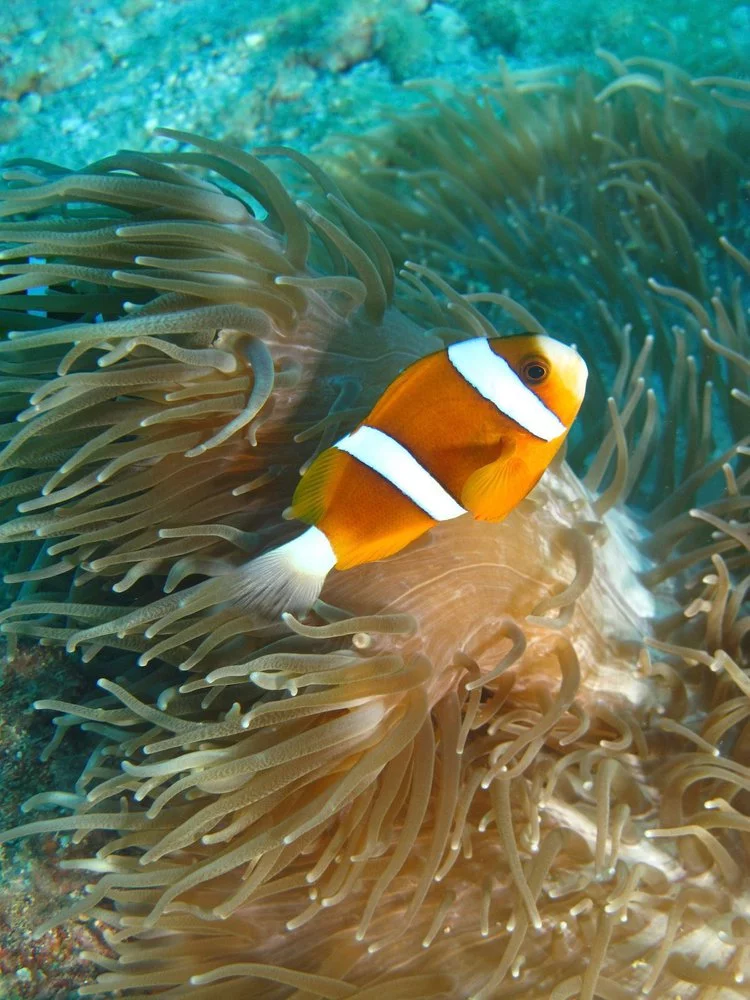 MANTA RAYS
The majestic manta rays are one of the main characters of the Whitsundays ecosystem. It is an incredible experience to watch these gentle ocean giants swim in such a graceful way through the local reefs.
Many visitors may feel intimidated by them, but the truth is that humans are not tasty for manta rays! The food that manta rays chase is only a fraction of our size as they feed on tiny plankton.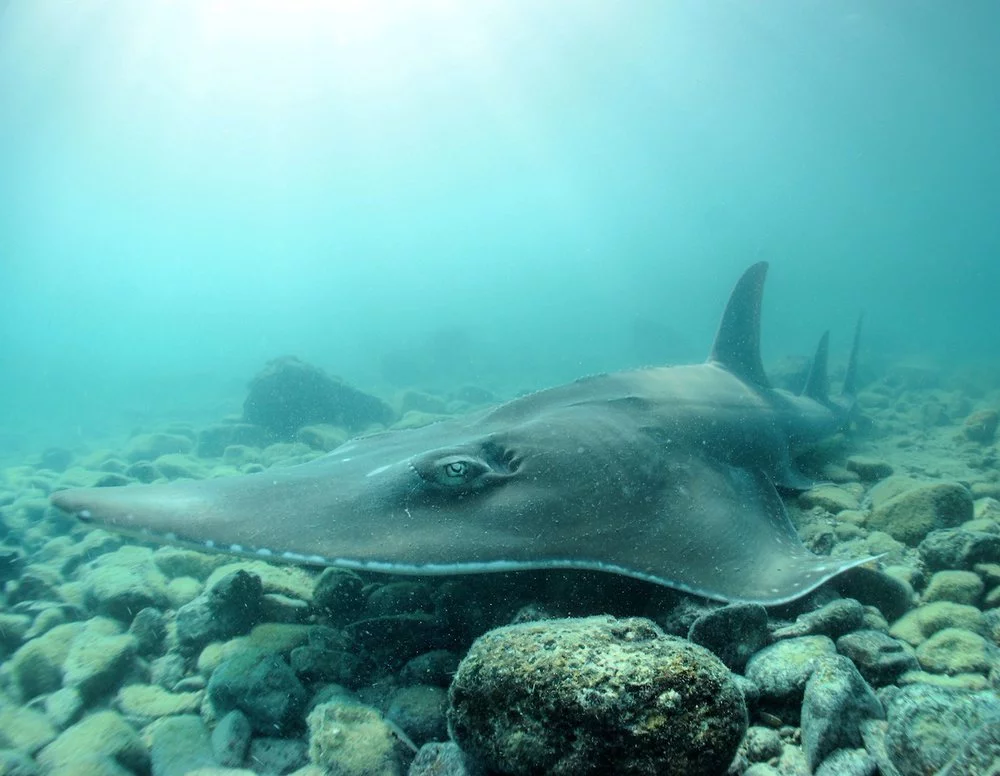 SEA TURTLES
There are seven extant species of sea turtles in the world and we are lucky enough to be able to have six of them right here in the Whitsundays! Sea turtles are iconic animals in the area as these special creatures prefer to live near coastlines and around islands where they find shelter and secluded bays.
Turtles can grow to be around 1.5 metres in length and over 100 kilograms, and can live for 80 years or more!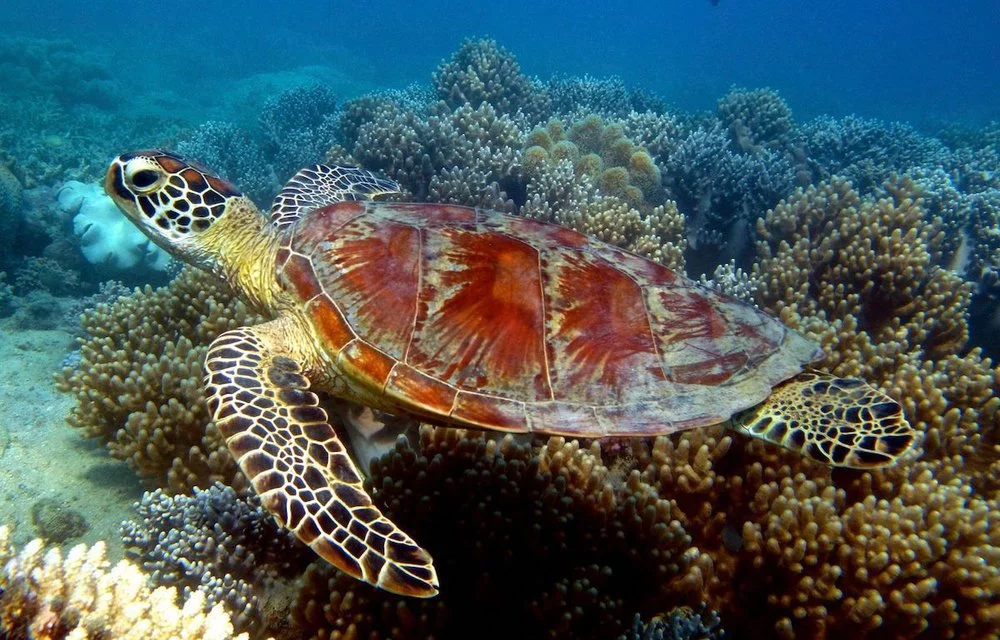 MAORI WRASSE
The Maori Wrasse is the biggest fish of the Labridae family, which is formed by 600 species of fish, all beautifully and brightly coloured. The most amazing thing about the Maori Wrasse is that they can develop a high level of intelligence and have been known to form bonds with divers or snorkelers that they see and interact with regularly.
Have you heard about George, our Whitsundays' celebrity? This massive Maori Wrasse is known for being very friendly with visitors and a social media icon!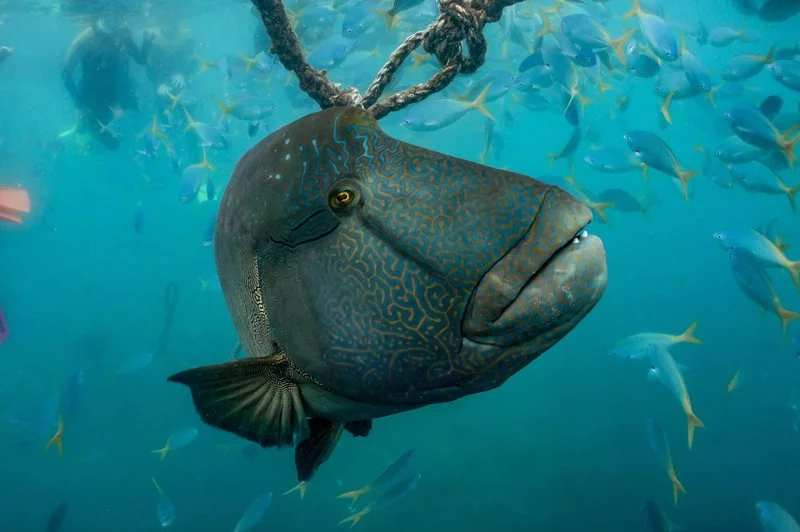 CORALS
Did you know that corals are living animals? Corals are made of thousands and thousands of tiny polyps, which are related to anemones and jellyfish. They grow in different shapes, colours and sizes, creating amazing coral gardens.
In the Whitsundays, corals usually live along the coastline and that's why they are called fringing reefs. The barrier reef on the other hand is formed by coral that grows parallel to the coastline but further out.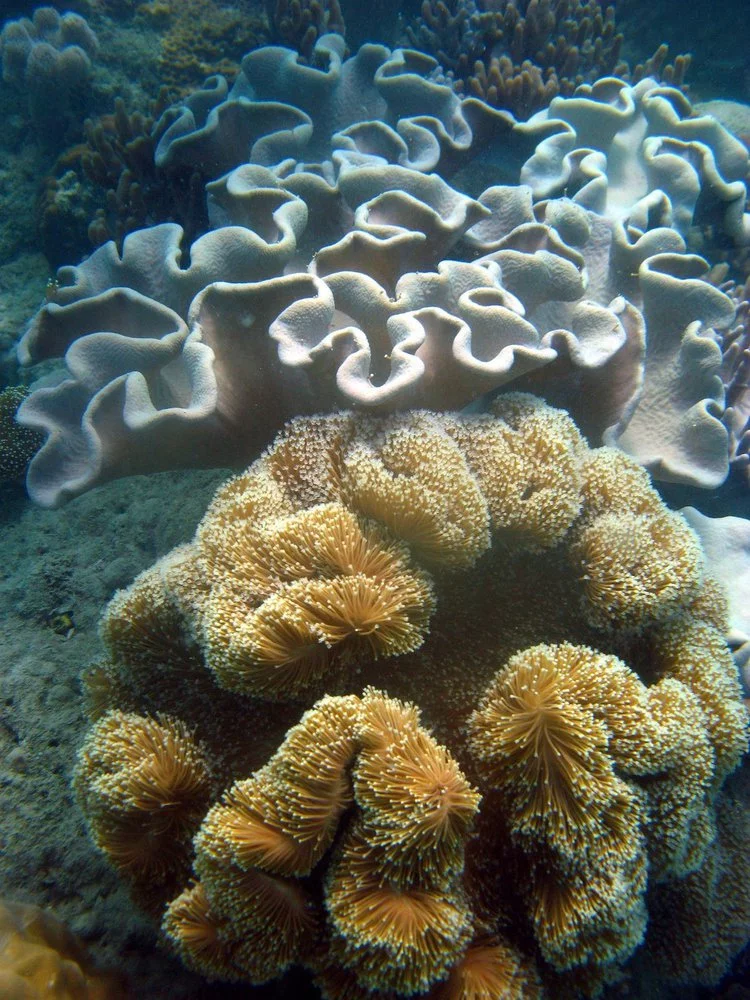 DUGONGS
Also known as 'sea cows', Dugongs are special mammals that live here in the Whitsundays. Dugongs usually avoid boats and people but that doesn't mean that it is impossible to come across one of these special mammals.
They are often spotted in specific bays in the Whitsundays like Tongue Bay, Cid Harbour, Repulse Bay and Muddy Bay.
IS IT SAFE TO SNORKEL IN THE GREAT BARRIER REEF?
Yes, it is safe to snorkel in the Whitsundays. The importan things is to make smart decisions and use your common sense.
Follow this advice to guarantee a safe snorkelling experience in the Whitsundays:
Use stinger suits from October to March.
Always pay attention to emergency procedures.
If you can't swim properly, use a flotation device.
Watch your step! Corals can be sharp and harm your feet.
LOCAL ADVICE FOR FIRST-TIME SNORKELLERS
DON'T WEAR THE MASK TOO TIGHT
Lots of beginners mistakenly believe that wearing the mask tightly will help to prevent leaks. Yet that isn't the case. Too much tightening of the mask can cause your mask to leak. So if you're not sure, ask someone to check your mask to see if it's fitted properly on your face.
PRACTICE BREATHING IN A POOL
When possible, try to spend some time in a swimming pool with snorkel gear before your first snorkelling experience in the ocean. Practice breathing with the mask on. With practice, you should be able to lessen the occurrence of fogging happening to your mask.
INVEST IN A DEFOGGER SPRAY
If you don't have the time to practice breathing in a swimming pool beforehand, try investing in a defogger spray. It can drastically prevent your snorkelling mask from fogging up. Therefore, you'll have less in the way of you exploring the water of the Whitsunday Islands.
HAVE FUN
The most important thing to remember about snorkelling for the first time is simply relaxing and having fun. Snorkelling is probably the safest water sport there is. So don't think about it too much, and contact us when you're ready to go on your first snorkelling adventure.