As the gateway to the Whitsundays Islands and the Great Barrier Reef, Airlie Beach is the perfect home destination to explore these magnificent wonders. The year-round tropical weather, palm-fringed beaches, waterfront parks, vibrant town centre and pristine waterfalls make Airlie Beach a popular holiday destination that you shouldn't miss out on experiencing!
In saying this, there's no better way to enjoy the tropical climate than a day out relaxing and indulging by one of the many waterfalls near Airlie Beach. Airlie Beach waterfalls are notoriously beautiful and are a popular activity for many tourists and locals – one visit will make you fall in love with the region.
But just what are the best waterfalls near Airlie Beach? Wings Sailing Whitsundays are the region's leading charter vessel operator with a wealth of knowledge about the best areas to visit, including the best Airlie Beach waterfalls. Within this article, we'll discuss the best waterfalls near Airlie Beach that you just have to visit, and how you can make your Whitsundays adventure a life-long memory.
THE 4 BEST WATERFALLS NEAR AIRLIE BEACH
1. CEDAR CREEK FALLS AIRLIE BEACH
A haven of natural beauty, Cedar Creek Falls represents the best of the best in the Whitsundays region. A well-kept secret, Cedar Creek Falls is hidden away behind vibrant greenery and rocks, but make no mistake, it's the perfect place for a dip in clean water.
You'll find Cedar Creek Falls about halfway between Airlie Beach and Proserpine on Saltwater Creek Road. The drive to Cedar Falls Airlie Beach in itself is an unforgettable experience as beauty spans as far as the eye can see.
Set in a natural rock amphitheatre, you'll indulge in an abundance of luscious flora and fauna, including white cedar trees, wild orchids, and beautiful birds. Particularly spectacular and vibrant in the wet season, Cedar Creek Falls is an easy walk from the parking area and is surrounded by plentiful, adventurous bushwalking trails that are well worth exploring.
A favourite among tourists and locals who love to unwind on the weekend, Cedar Creek Falls Airlie Beach is a must-stop destination in the Whitsundays. The clean air, fresh water and rocky terrain are perfect for letting your hair down and having fun, or even to kick back and enjoy maximum relaxation.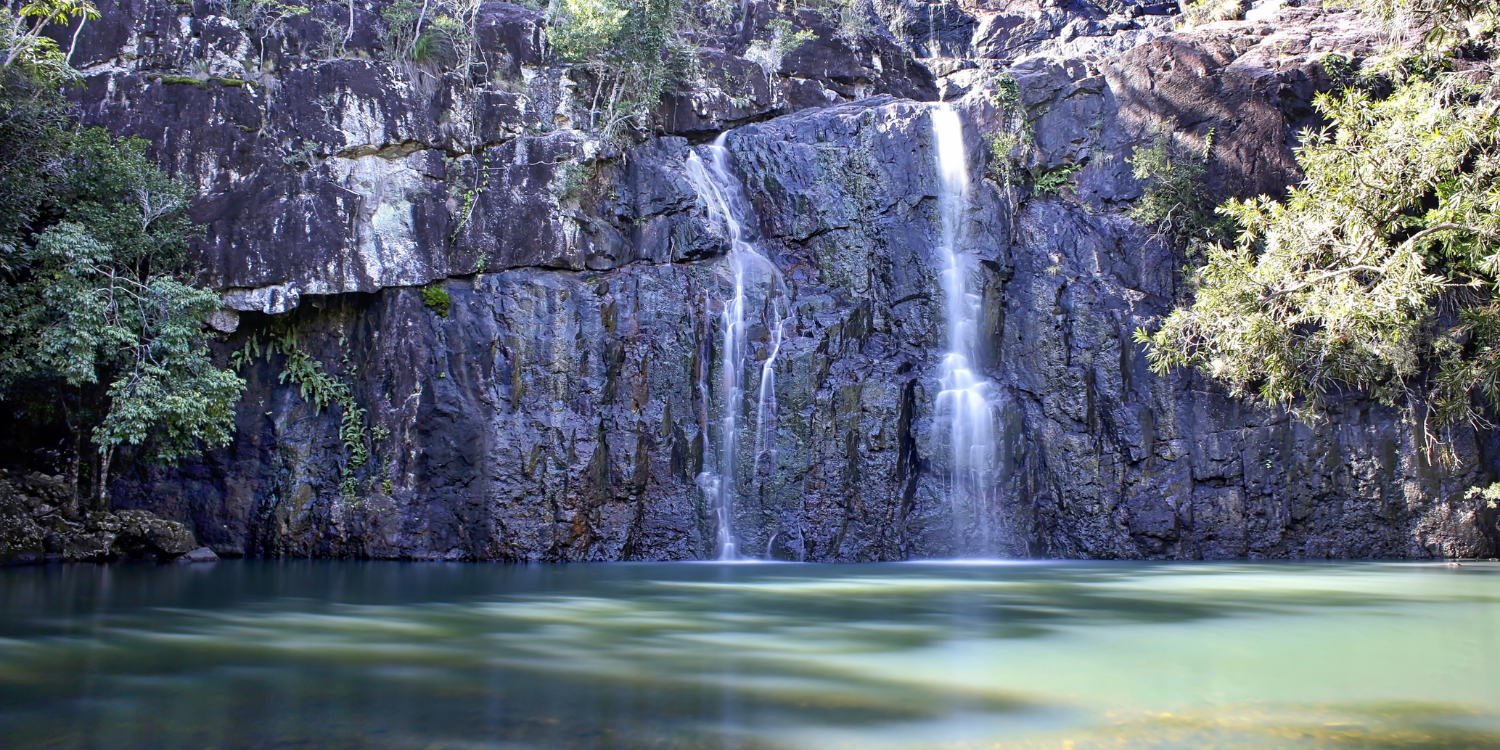 It's important to note that jumping and diving from the waterfall is strictly prohibited for your own safety. Wings Whitsundays recommends to:
Never jump off the rocks into the waterfalls
Always keep children within viewing distance
Don't veer off the formed tracks
Stay within fenced areas
Be aware of wildlife and local animals
Leave the environment the way it was when you arrived, take all rubbish with you
Don't swim alone or put others at risk
Always read and heed on-site information and signs
Looking to shower under a cool waterfall or take a refreshing dip in crystal clear water? This is the place to be – the perfect venue to spend a few hours with friends, family, a loved one or even by yourself, sharing the cool waters with fish, turtles and more. Make sure to pack a towel, sunscreen, insect repellent, food and even some BYO drinks if you're feeling it.
The best time to visit Cedar Creek Falls Airlie Beach is in the summertime, from December to March – the perfect weather for a quick, refreshing dip. The average temperature is around 26 degrees Celsius during these times but may feel higher due to the intense humidity.
2. AURELIEN WATERFALL
Walkthrough rainforest and beautiful cascades along the popular Finch Hatton Gorge before the Gorge flows into the Aurelien Waterfall, a tranquil carved rock pool that is perfect for a day out. Here, you'll have plenty of free time to swim, explore, spot wildlife, sun-bake and relax. Sit at the viewing platform, lay on a rock in the sun or explore the meandering river stream during your visit.
The water is crystal clear and cool, the perfect outlet during a humid tropical today. Just so you know, there are no crocodiles, stingers or other dangerous animals that could otherwise harm you within the water stream.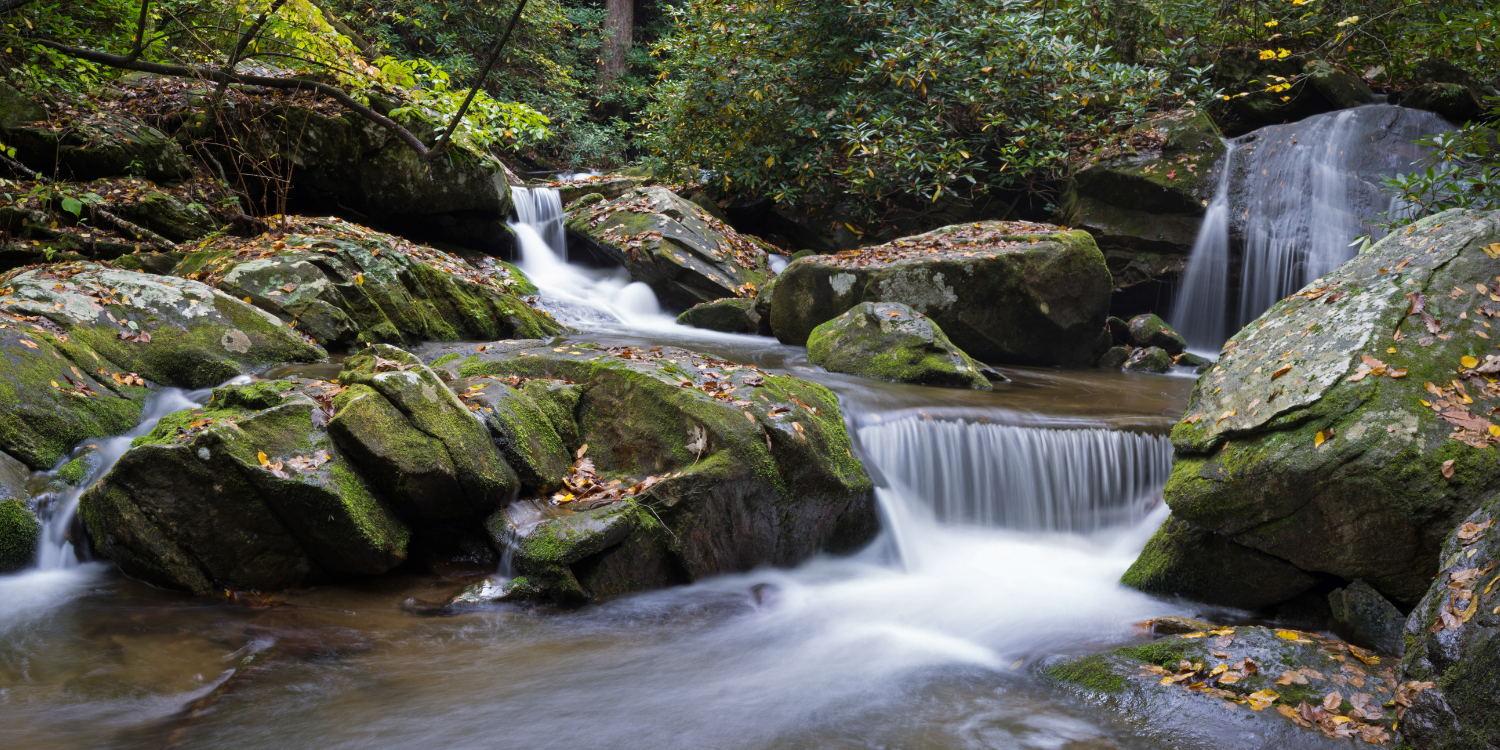 3. WHEEL OF FIRE WATERFALL
While you're near Airlie Beach, you just have to visit the 'Wheel of Fire' Waterfall. Perhaps cooler than the name itself is the pearl blue water amongst the trees that is sure to induce an unmatched level of relaxation.
Like the Aurelien Waterfall, you can reach the Wheel of Fire Waterfall via the Finch Hatton Gorge bushwalk. A short 1.4km hike from Aurelien Waterfall to the top, why not make your day a 2-stop waterfall adventure? It's a steep climb upstairs and across a river, but it's well worth it.
Located in the mountain valley, framed by lush rainforests, palms and tree ferns, you're likely to have the Wheel of Fire Waterfall all to yourself upon arrival. A much larger waterfall that cascades the entire face of the mountain with a swimming hole as wide as a beach, the Wheel of Fire Waterfall is a must-stop destination for all lovers of nature.
Swim, sunbake and explore the Wheel of Fire Waterfall and surrounding forests or take a picnic lunch to enjoy the serenity of nature surrounding you. Visits to these locations would take a few hours to visit.
4. CORAL BEACH WATERFALL
A mere 18-minute drive from Airlie Beach, Coral Beach Waterfall can be reached via the Coral Beach Bushwalk, a 3.7km long picturesque track through creeks and forest areas that offers an authentic Whitsundays experience. From the end of the beach, the walk continues up to a lookout that overlooks the Whitsundays region – a perfect spot to sit and have some drinks as you soak in the surrounding natural beauty. Coral Beach Waterfall is undoubtedly one of the best, most scenic waterfalls near Airlie Beach.
Once you're at Coral Beach, enjoy the secluded nature, cool breeze, and crystal-clear waters. The hidden-gem nature of Coral Beach waterfall makes it one of the Whitsundays best-kept secrets.
Remember to pack food, sunscreen, first aid and water when you visit and leave the natural environment as you found it.
AIRLIE BEACH WATERFALLS
When visiting the region there's a variety of options to choose from that'll enhance your Whitsundays trip and foster a new appreciation for the natural beauty of Queensland's most famous tropical region.
Waterfalls are perhaps some of nature's best creations – inciting an unmatched level of relaxation, enjoyment, and fun. Have you been looking for the best waterfall tours along and near Airlie Beach, or perhaps out on the water of the Whitsunday Islands look no further than Wings' private charters and one of our skippered overnight holiday charters can take you to visit some hidden gems nestled on the islands of the Great Barrier Reef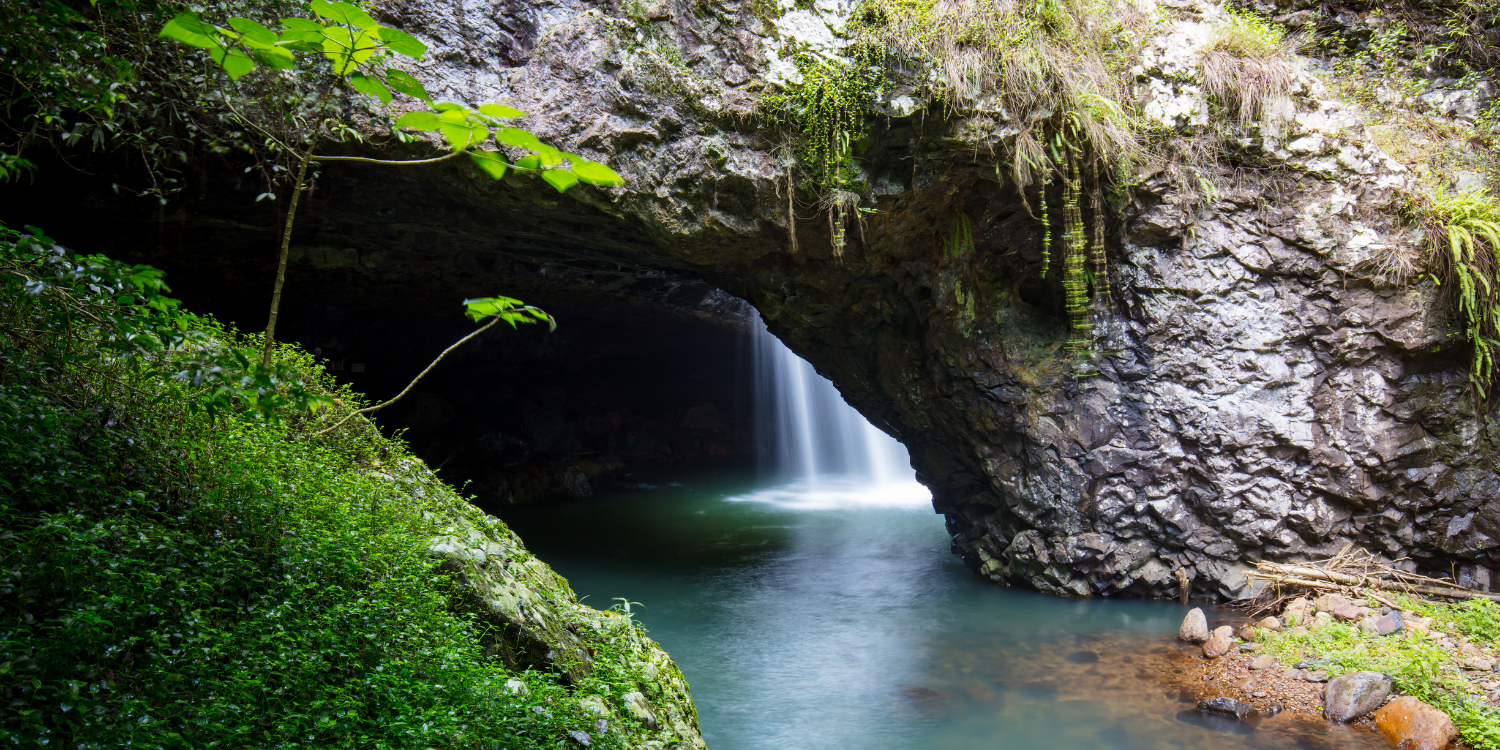 1. FALLS TO PARADISE
Our 'Falls to Paradise' tour is an all-inclusive day tour exploring Cedar Creek Falls and the exclusive Coral Sea Resort. Guests can swim with turtles at the majestic waterfalls, then relax and enjoy lunch with an unforgettable view. Departing daily from Red Cat Adventures at 10:30 am, Falls to Paradise is the 2018 and 2019 GOLD National Tourism Award-winning tour.
Highlights:
Swimming with the turtles at Cedar Creek Falls
An informative and fun tour guide to assist you along the way
Relaxing by the pool at the award-winning Coral Sea Resort
An unbeatable lunch prepared by chefs
Cocktails by the pool
Experiencing some of the most beautiful waterfalls in the world
Guided walks to the top of the falls
Small group excursions
One meal and drink included
2. CHASING WATERFALLS AIRLIE BEACH DAY TOUR
On this one-day tour, you'll explore two magical waterfalls and swimming holes hidden amongst serene rainforests, mountain ranges and colourful volcanic rock pools.
You'll spend most of your day in the beautiful Eungella National Park, known as 'Land of the Clouds' by local Aboriginal tribes, experiencing some of the best natural beauty on the planet. This one-day tour is a tranquil and informative excursion that begins with a scenic drive inland before an adventurous hike to the Aurelien and Wheel of Fire waterfalls.
Note that this tour requires some degree of adventure, as there is a small river stream to cross and several stairs to reach the second waterfall.
The Chasing Waterfalls Airlie Beach Day Tour is a must-do experience for all waterfall lovers across the world.
3. OTHER PRIVATE CHARTERS DEPARTING FROM AIRLIE BEACH
Wings Whitsundays have crafted an unforgettable, renowned experience due to our personal touch and extensive knowledge of the area.
Have a completely personalised experience close to nature with Wings, proudly Australian owned and operated. We love exploring the hidden gems of the Whitsundays and often take our guests to places we've not visited before. Some of these places can only handle a small group of people each year and are an exclusive experience.
Explore, discover, and learn about hidden spots and secrets only an expert can provide.
With Wings Private Charter Tours Departing Airlie Beach, choose from any range of unique experiences such as:
Wildlife Encounters – Wild Kangaroos and Wallabies on the Beach at Sunrise
Swim in a freshwater swimming hole and under a tropical Waterfall
Aboriginal food & medicine educational experience, visit Indigenous ancient fish traps
Local Farm Tours & Foodie Tours
Wildlife spotting
Remote beaches
Zipline through the rain forest (additional cost)
Fly over the famous Heart Reef, Whitehaven Beach, and the Whitsunday Islands (additional cost)
Wine Tasting (additional cost)
Relaxation and free time in locations to relax, swim and explore