TWings catamarans were specially designed to sail in the Whitsundays. Their size, stability, spacious areas, amazing features and privacy, makes them perfect for private holidays or special events celebrations in the Whitsundays Islands and the Great Barrier Reef.
Unlike catamarans bareboats, Wings' private charters are all-inclusive. This means that an experienced skipper will be in charge of driving the boat and a friendly host will take care of you and your group. All meals are included, from breakfast and lunch to sunset snacks and dinner. The goal is that guests lay back and enjoy an amazing experience sailing around one of the most beautiful places in the world, without the need to stress about anything else.
Discover why catamarans (multihull), rather than monohulls, are the best option for a sailing family holiday in the Whitsundays.
Although the style and layout are very similar, Wings II and Wings III differ in size and features. Continue reading to find out which catamaran suits better your needs and goals for your next sailing adventure.
Wings II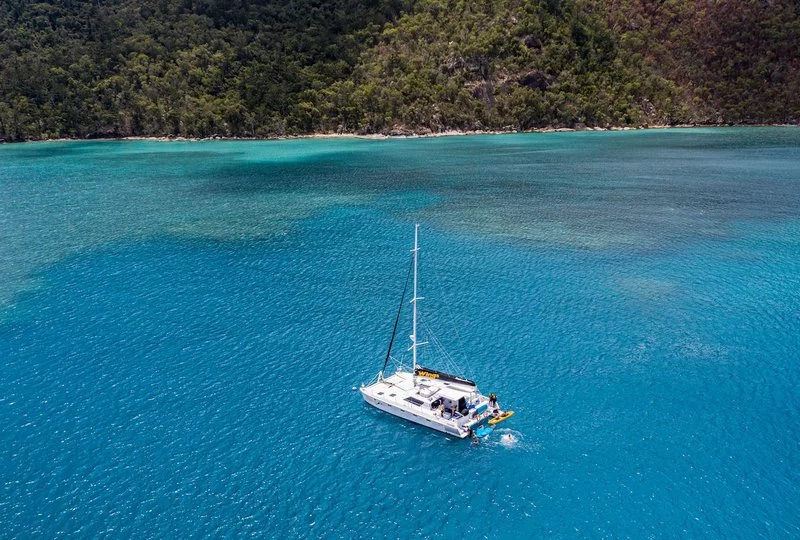 With an open helm area and large foredeck, Wings II is our designated catamaran for families, groups of friends or colleagues, wanting to spend a private and intimate time in the Whistundays Islands.
WINGS II SAILING CATAMARAN HIGHLIGHTS:
Up to 18 people can sleep comfy in Wings II.
Up to 25 people are welcomed for a full day trip.
The boat is 15.17m.
Fully air-conditioned.
Unlimited filtered water.
2 private cabins (double or triple).
2 shared cabins (sleep up to 7 people in each cabin).
Available clear bottom kayaks, SUP boards and snorkelling gear.
BBQ.
Fully equipped kitchen.
The primary winch has a 24-volt electric motor that takes much of the hard work out of the job, leaving you with easy, smooth and stable sailing.
WINGS III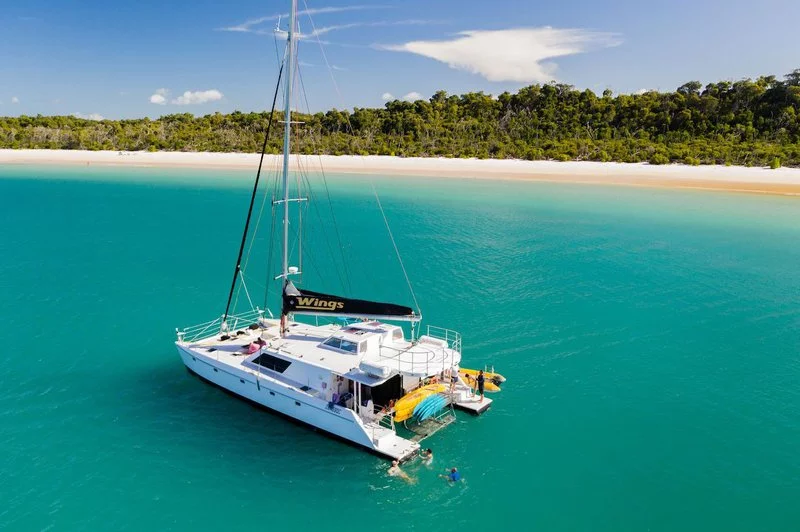 Wings III was built to sail pleasantly in a wide range of weather conditions in the Whitsundays Islands and to create the perfect environment and comfort for our guests to do different water activities while at anchor, from kayaking to snorkelling.
If you are looking for an extended experience of 3 or 4 days and even exploring the Outer Reef, Wings III is the cat for you.
Although Wings III is not a racing cat, she can maintain a 10-knot boat speed under sail when returning from the Outer Great Barrier Reef in a fresh breeze on an ocean that has a few bumps.
WINGS III SAILING CATAMARAN HIGHLIGHTS:
Up to 21 people can sleep comfy in Wings III.
Up to 29 people are welcomed for a full day trip.
The boat is 18m.
Fully air-conditioned.
Unlimited filtered water.
3 toilets.
SPA.
Available clear bottom kayaks, SUP boards and snorkelling gear.
BBQ.
Fully equipped kitchen.
The star of Wings III is her high sun deck where guests can jump to the water, sunbathe and watch the sunset and shooting stars.
WHITSUNDAYS PRIVATE CHARTERS
Wings private charters are tailored for families and small or large groups that want to spend a well-deserved vacation or celebrate a special occasion, like a wedding or birthday, in a private and relaxing way.
Unlike bareboat charters in the Whitsundays, Wings Private Charters are the ultimate and affordable all-inclusive package in the Whistundays Islands, as they include crew, meals, water sports equipment and more.
Click here to find out more about the difference between skippered private charters and bareboat charters in the Whitsundays Islands and find out which option is better value for money.
BEST PLACES TO VISIT IN THE WHITSUNDAYS ISLANDS:
WHITEHAVEN BEACH (WHITSUNDAYS ISLAND)
It is not news that Whitehaven Beach is ranked as the most beautiful beach in the world and we are honestly not surprised that it is number one. We get amused by its natural beauty every time we go there.
When you spend the night on a Wings cat, you literally wake up in paradise. The advantage of an overnight private charter is that you can arrive before the crowds and day tours to Whitehaven Beach and enjoy the white sand and crystal clear water just with your loved ones.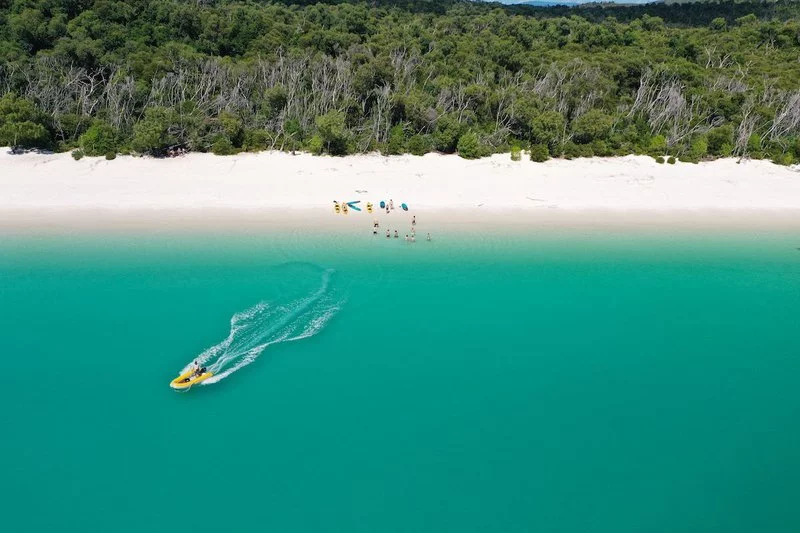 HILL INLET LOOKOUT (WHITSUNDAYS ISLAND)
This is where the classic picture of the Whitsundays Islands is taken, and it is totally worth it. There is no scenic view similar to the one offered by Hill Inlet Lookout. Arrive at the top after a pleasant bushwalk through the rainforest and let the view take your breath away.
The lookout is located only 1.3km away from the shore, where the boat will leave you, and the effort will be rewarding. As the tide shifts, the white sands and turquoise waters will make a magic effect never seen before in any other part of the world.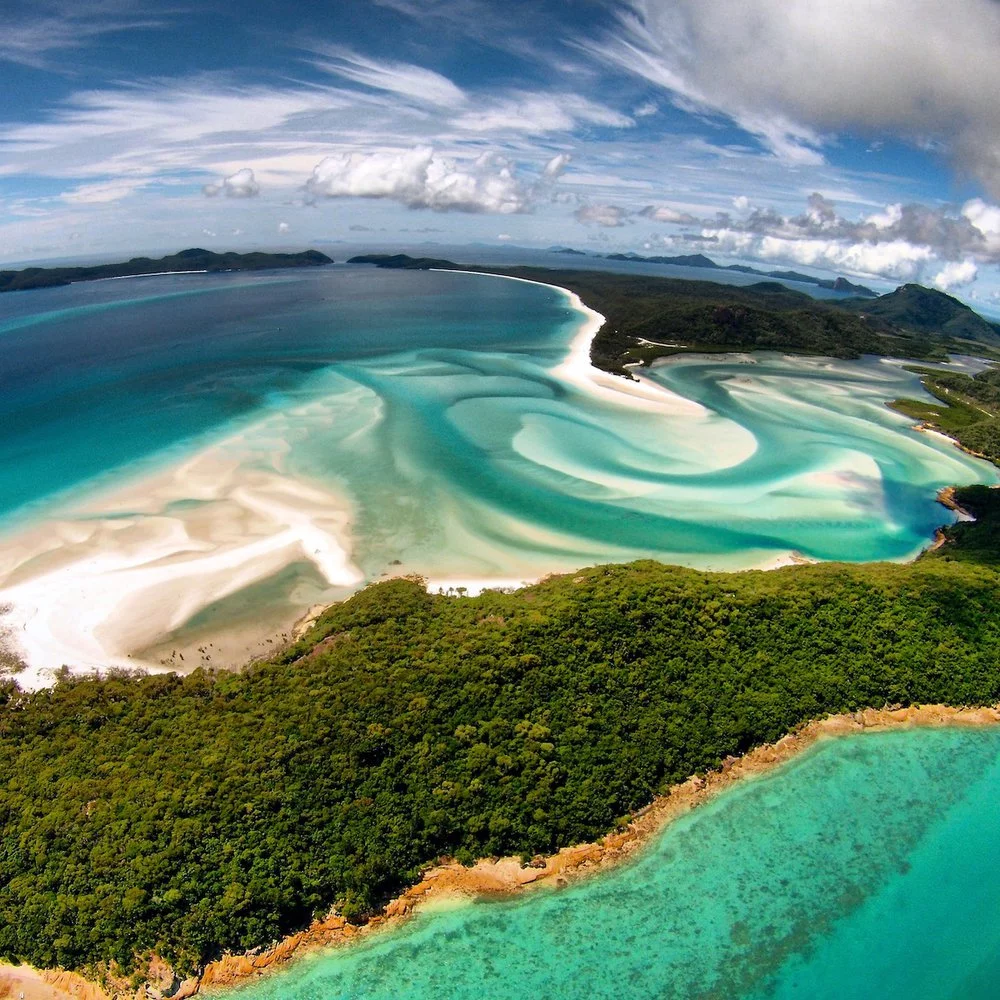 MANTA-RAY BAY (HOOK ISLAND)
Thanks to its crystal waters and other natural conditions, Mantaray Bay is the spot to go if you want to have one of the best snorkelling experiences in the area. Here is where George, the giant Maori Wrasse, lives and where friendly marine life become close to snorkellers.
Early mornings are probably the best time to go there, when no one is around, so you can take advantage of being the only humans around!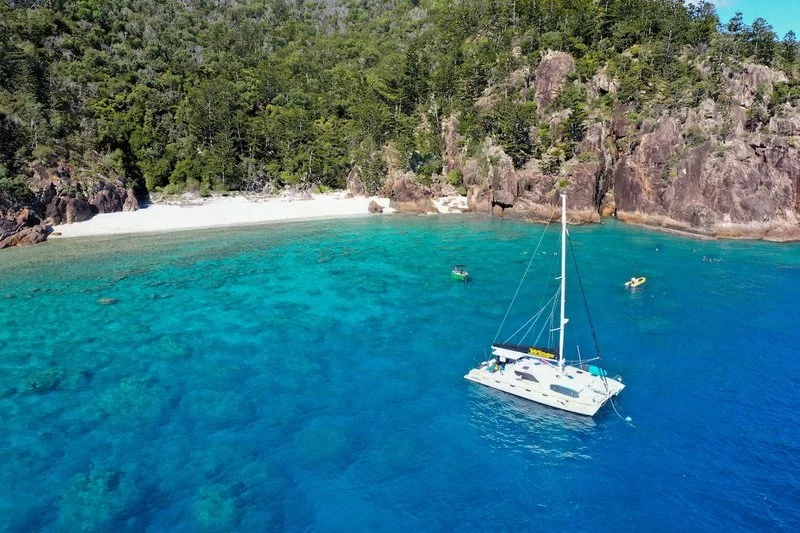 LANGFORD ISLAND
Imagine sunbathing or having a picnic in the middle of the turquoise ocean, on a tiny beach that only appears at low tide. Well, this is completely normal at Langford Island.
The small and uninhabited island near Hayman Island features a long sand spit that disappears when the sea reaches its highest level. This secluded spot is very popular among snorkelers, paddlers and divers as the island is also home to a stunning coral reef.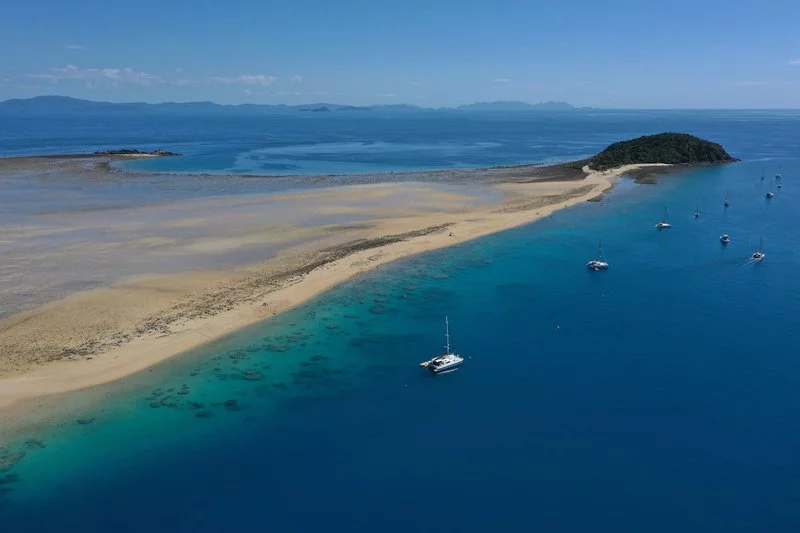 BOOK YOUR NEXT SALING ADVENTURE IN THE WHITSUNDAYS
There is no doubt that an overnight sailing adventure visiting all these amazing spots in the Whitsundays will create unforgettable memories. The bond created with your loved ones after experiencing a unique holiday like this one is unbreakable. If you have any questions about Wings fleet and private charters get in touch with our team or send an enquiry through our website today to talk to one of our local experts.